Joaquin is an American actor, producer, and animal rights activist. He is considered to be one of the greatest actors of all time.
Throughout his career, Phoenix has won multiple awards, including an Academy Award, a Grammy Award, a British Academy Film Award, and two Golden Globe Awards.
In 2020, Joaquin was ranked 12th on the list of the 25 Greatest Actors of the 21st Century by The New York Times. Phoenix's role in DC's character, Joker, won him worldwide appreciation. His play Joker is one of the most iconic acts of all time.
This play led him to win the Oscars award. Nobody was expecting Phoenix would turn himself into the character. As great and amazing Phoenix played the role on the screen he had to do equally hard work. Joaquin signed the contract in early 2018.
The shooting was to start in September 2018, giving him a very short period to be ready. Given the desperate and sad story of Joker, Phoenix was required to lose 50 pounds, which at least requires a period of one year.
However, he didn't object and started his preparation. Within months, he succeeded in losing 52 pounds.
The comedian, actor, and YouTuber, Josh Peck, has lost over 100 pounds. 
How did Joaquin Lose Weight?
Talking about Phoenix's weight loss, Joker's director, Todd Philip, said, "It was already like June and he had not started losing weight and we were to start shooting in September. He was like 180 pounds. He wasn't fat but we were talking about 125 pounds."
But at the end of the day, Joaquin succeeded in losing the required weight and played the role iconically. Well, the question is how. Phoenix, himself, hasn't said much about how he lost weight. However, there were a lot of rumors circulating on the internet.
One rumor said that Joaquin only ate one apple a day. In response to this, Joaquin said, "It wasn't an apple a day. No, you've also got lettuce and steamed green beans." Not only did he cut down his calorie consumption by a great margin but he also started burning calories.
Joaquin would start his day with a long walk of one mile. Joaquin described the experience on Jimmy Kimmel's show: "It was difficult at times but then there was something very empowering about it as well. I think just having like that much control over yourself is something I've never experienced before."
He continued, "In the beginning, you are exhausted. I mean you look at a flight of stairs and it takes 30 seconds to talk to yourself. Saying, 'I can do this. I know I can do this.' But once you reach your target weight, you feel incredible. You feel energized."
Let's conclude with what he said to The New York Times, "It is a horrible way of life."
Sudden Weight Loss led Phoenix to Disorder
Phoenix is a positive person. He saw losing weight in a positive way but it doesn't mean that that huge transformation didn't bring challenges for Joaquin.
After the shooting was done, he underwent an eating disorder. As he had abstained from eating for that long, he couldn't control himself.
He started overeating. This led to a lot of other problems. However, the good thing is that he took charge at the right time and controlled himself. 
Losing Weight Impacted Phoenix's Psychology
Not only after the shooting was done but Phoenix had a very hard time during the shooting as well. Describing the experience, he said, "As it turns out, that impacts your psychology and you really start to go mad when you lose that much weight in that amount of time." He further said, "The most difficult part was waking up early in the morning."
Well, it wasn't only the weight loss that impacted Joaquin's psychology. The role of Joker, itself, was enough to leave some memories. Speaking of the character, Joaquin said, "Who he was in the first few weeks of shooting was completely different than who he was in the end."
He further said, "He was constantly evolving. I've never had an experience like this. The more unpredictable and looser we left it, the more exciting it was."
Before & After Weight Loss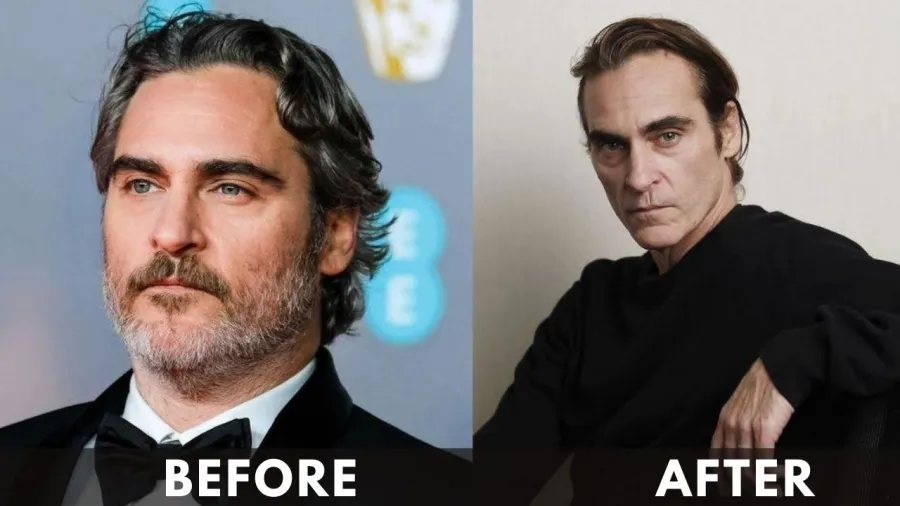 Phoenix now weighs 158 pounds, which is less than his old weight of 180 pounds. Even though the filming of Joker finished a year ago, his weight loss journey taught him an important lesson about staying humble. He shed 52 pounds to play the role of Joker in the movie.
Final Words
Joaquin's drastic transformation to play Joker tells us how much he loves what he does. In order to play this role, Phoenix underwent a huge shift in his personality.
However, if you are thinking of losing weight in the same way as he did, please don't. It is very dangerous for health and very risky.
Equally, an interesting story is of Gregory Jbara's transformation.