Melling is an English actor. He rose to fame after playing Dudley Dursley in five Harry Potter films.
He also played Harry Baltik in the Netflix show, The Queen's Gambit. Throughout his acting career, Harry has appeared in The Lost City of Z, The Keeper, Say Your Prayers, The Pale Blue Eye, and many more.
Now, if you have been following Melling since his first appearance in the Harry Potter movies, you would have noticed that he was an overweight kid. Not only for the film, but Harry (Dudley) also struggled with obesity in his real life.
However, this has changed now. Melling is totally changed from his childhood appearance. He has not only lost a significant amount of weight but has also become super slim. How did this change occur? Well, it was a gradual change.
Also, find out how the Star Wars star, Kelly Marie Tran, succeeded in getting rid of extra pounds.
Harry Melling's Weight Loss Journey
Due to his huge weight loss, Dudley Dursley was almost recast. However, he appeared wearing a fat suit in Harry Potter and the Deathly Hollows Part 1. When asked, Melling said that his weight loss was somewhat unconscious change. 
He said that he didn't plan on losing weight at all. "I think it was an unconscious thing when it started to happen," Harry told People. "I went to drama school when I was 18 and that's kind of where the weight shifted, not for any sort of major need on my side, but it's just something that just happened."
He said that along with transforming his health for good, there was another good thing that happened. "I think one of the blessings of that sort of stage in my life was the fact that I didn't get recognized," he added. Even his fans didn't recognize him.
"I had this history of being part of the films, but also I felt like I had the opportunity to sort of cause a new start, which I think is useful," Harry said. All in all, Harry has undergone a massive transformation. And he is no longer the spoiled cousin of Harry Potter but rather a charming and handsome gentleman.
Before & After Weight Loss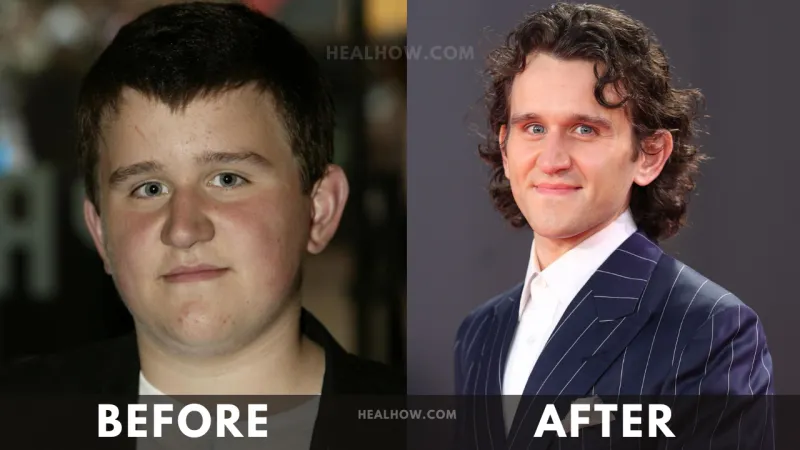 As you can see clearly in the photos, Melling really went through a huge change. He has lost about 80 pounds and weighs around 160 pounds as compared to his previous weight of 240 pounds.
Read about the diet and workout plan that Lily Allen followed to lose weight.
Final Words
Harry Melling's weight loss and career journey is a great example of how time passes by. Today, he looks totally unrecognizable from what he looked like around 20 years ago. Harry won another huge advantage after undergoing a massive weight loss, he transformed his health too.