Wendy Williams is an American broadcaster and TV personality. She is well-known for her talk show, The Wendy Williams Show. For her being outspoken and bold, Wendy was called a shock jockette.
She has also appeared in various films and TV series. Besides appearing on the camera, Williams has also written multiple books.
There is no doubt that Wendy has conquered and has thrived in whatever field she entered, however, there is still one field that she struggles with. And that is her health. The famous broadcaster has struggled with cocaine addiction, graves' disease, and vertigo.
Recently, Wendy announced on her talk show that she has lost 25 pounds. Her announcement made her fans go crazy. "The doctor told me the weight, and I was like, 'I haven't weighed this little since high school!'" Williams said.
Find out how the American actress and director, Lena Dunham, succeeded in losing 30 pounds.
Wendy Williams Weight Loss
These changes in Wendy's physique occurred during the quarantine. While the world was shut down because of Covid-19, Wendy was fighting a war with food. What's more surprising about Williams' weight loss is that it wasn't even intentional.
"I've lost 25 pounds, look! And I didn't do it on purpose. It's just that food became disgusting to me," Williams told her audience. Wendy said that she became indifferent to food. "I was cooking at first and it was all good, I was shoveling stuff in my mouth," she said. "Everything from hot dogs to lobster, you know, king crab legs. All that stuff."
Wendy said that she had been in love with food for so long that she became tired of it and said goodbye to it. "Then it became, 'I'm done with food,'" she said. Now, you are not taking it literally, are you? I mean she still eats food but in a very small amount.
Wendy's Diet Plan
Wendy made big changes to her diet and lifestyle during quarantine, and it had a positive impact on her health.
First, Wendy significantly cut down on the number of calories she consumed. She stopped eating food just for enjoyment and started eating only when it was necessary for her body. She even gave up all kinds of processed foods for a whole month and instead focused on eating salads and healthier options.
In addition to salads, Wendy also made sure to include lean meat in her diet. She decided to skip breakfast as part of her daily routine. Instead of dining out at restaurants, she started eating only homemade meals. Wendy also reduced the amount of alcohol she drank.
Before & After Weight Loss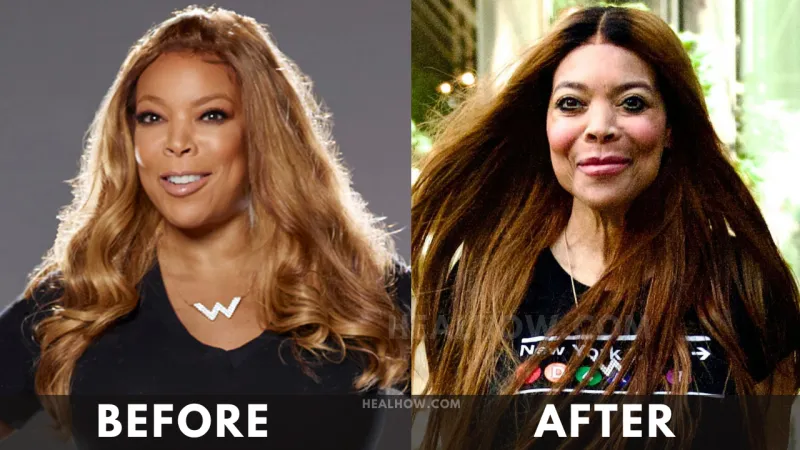 Wendy accomplished an impressive feat by shedding 25 pounds through a controlled diet. Her dedication and hard work paid off, as she managed to reduce her weight to 175 pounds. Prior to embarking on this weight loss journey, Wendy's scale used to tip at around 200 pounds.
Wendy's Lonely in Romance
In her same interview, Williams announced that she was feeling lonely. "I'm just alone in my romance." Her statement met with sympathetic groans from the audience. Wendy added sarcastically, "Oh, well. Don't you worry, because (Mr. Right) might be watching right now?"
She Tested Positive for Covid
Wendy was also one of the millions who suffered from Covid. In September 2019, she tested positive for a breakthrough infection of Covid-19. Well, don't worry, she is fine and is in way better health now. Wendy succeeded in defeating the virus.
Wendy has a long history of fighting health issues. In early 2022, her bank, Wells Fargo, froze her account and requested a Supreme Court hearing on whether due to her health conditions, Williams is in need of guardianship.
However, her attorney rejected these notions by saying that Williams has holistic health professionals.
Find out the weight loss journey of the English singer and songwriter, Lily Allen.
Final Words
Just like Wendy's professional career, her health history is also a great example of a real struggle.
She is a brave and confident lady and doesn't give up that easily. Williams continues to fight whatever obstacle life throws at her. Whether it is her health or a court case.