Chadwick's works are all-time great. He proved his talent by working on many projects.
However, the breakthrough in Boseman's career came in 2016 when he was cast by Marvel Universe to play the role of Black Panther. It earned him worldwide fame. 
Chadwick was supposed to work on many upcoming projects including the long-awaited Black Panther 2.
Sadly, his deteriorating health didn't allow him to do so. At the age of 43, Boseman died of colon cancer on August 28, 2020. 
Chadwick was diagnosed in 2016 and struggled with cancer for 4 years until his death.
During the illness, he lost a tremendous amount of weight because of chemotherapy and other treatments. Boseman had kept his illness a secret "except for very few non-family members". 
So, when he shared his new photo on Instagram, it came as a shock to his fans. Many confused his chronic illness with his lifestyle or even drugs. However, the reality was far more different and severe.
Chadwick's Weight Loss During Illness
In the year 2016, the African-American actor was diagnosed with stage III colon cancer.
His treatment started but the situation got worse with the passing of time. It developed to stage IV in 2020. Chadwick took much care to keep his health good, nevertheless, it caused a sudden weight loss.
When he shared his new photo in 2020, everyone took his weight loss, mistakenly, for his choice. Though this was never the case. As Boseman didn't share the news of his illness, it confused a lot of people. 
Find out how obesity caused the reason for the death of the famous comedian of the 20th century, Oliver Hardy.
Chadwick was Mocked because of His Appearance
After he shared his new photo, it became viral within hours. Many fans were concerned about his health and were trying to know the reason behind this sudden weight loss.
But there were also people who found it funny. They started spreading lies about Chadwick, saying that he was on his drugs.
The sad fact is that this trend didn't stop until Chadwick's death. He never disclosed his illness to the public. But when he was dead the truth couldn't be hidden.
This news was very hard not just on his fans but also on his colleagues who were unaware of Boseman's chronic disease.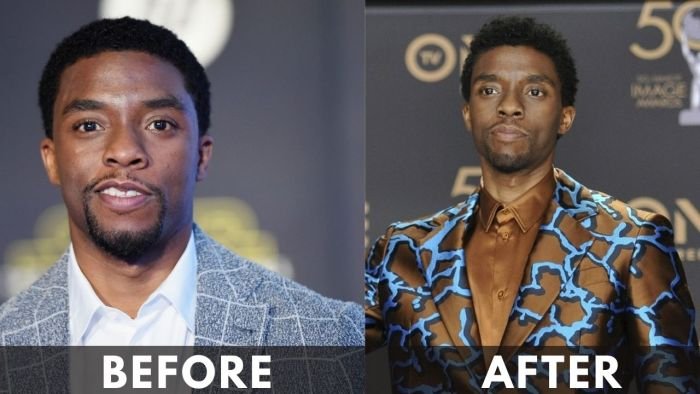 "The fact that Boseman had been criticized for his weight loss speaks to how superficially most people view others when their sole basis for judgment is the images they see online," wrote the professional trainer, Coffey. 
After his death, everyone realized that giving an opinion just because of Chadwick's shared photo or video was utter nonsense and totally immoral. 
What happened then was extremely sad but it has given a valuable lesson to everyone.
Don't judge others just by looking at how they look or how they speak. You never know what the other person is going through. Never inflict your opinions on anyone in any circumstances.
Chadwick Baseman's Death
The news of Chadwick Boseman's death brought huge sorrow over Hollywood. A public memorial service was held on Sept 4, 2020.
Chadwick didn't leave any will and his estate will be governed by California law, while his wife, Ledward, is the representative.
Even though there are many reports that claim that Boseman was buried at Welfare Baptist Church cemetery in Belton, South California, Boseman's childhood pastor and funeral handling service deny that.
While being stuck in the lockdown, the member of the Quorum of the Twelve Apostles of The Church of LDS, Elder Dale Renlund, has lost 20 pounds.
Final Words
Where social media has helped humans to be connected with each other 24/7 it has also made our morality vulnerable.
Making fun of others is made easier compared to the past. Without even getting to know others it has become easy to judge others by just making a meme. 
Dark humor is thought to be some brave thing to do when in fact, it has become a weapon of cowardly people.
Social media has also become a suitable platform for fake news. In this age of misinformation, the brave thing to do is check out for facts before sharing news, no matter how small. You don't realize the impact of your words until it is too late.
Also Read: