Mickelson's portfolio is quite large. Not only large, but it also has a lot of records and achievements. Throughout his career, the American golfer has won six major championships, and 3 masters, and has earned the title of oldest major championship winner in the history of golf, at the age of 50.  
Well, there are plenty of things to discuss about Phil's golf career but we can't add them here.
In this article, we are going to discuss recent changes in Mickelson's physique. Phil's appearance has changed in a very noticeable way.
He has lost a huge amount of weight which surprised his fans. After seeing Mickelson's new photos on Twitter, a lot of rumors were going online. Some said that Phil is sick while others thought that he has lost weight to look good. However, the reality was something different.
Find out how did Jusuf Nurkic lose 40 pounds so quickly.
Why did Mickelson Lose Weight?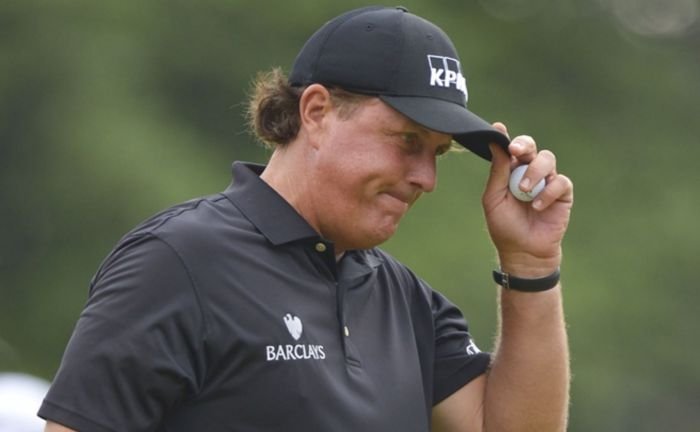 In the late 2000s, Phil was having some health issues in handling his game but he thought that it had something to do with tiredness. However, that wasn't the case. In 2010, Phil was diagnosed with psoriatic arthritis which was alarming news given Phil was an athlete. 
So, he started taking things seriously. After consulting with doctors, he started a weight loss journey. Throughout the years, Mickelson's weight had increased so gradually that he didn't even notice it. Soon he found out that it was slowing him down and the best thing to do was to get rid of it. So, that is what he did.
Phil Mickelson's Weight Loss Journey
Phil started his weight loss journey in 2010. At first, he was confused about how to get rid of this ever-increasing weight. "I wasn't playing well and I wasn't feeling good about myself", later Phil admitted. He continued, "I wasn't recovering as fast as I wanted to after the rounds and I was feeling tired and not focused towards the end of the round".
After this realization, Phil made some fundamental changes to his lifestyle. He completely altered his diet and workout plans. Phil started fasting. He would fast six days a month while having only water and coffee. 
Phil's recipe for coffee was very unique which was a mixture of Ethiopian Yirgacheffe coffee, cinnamon, almond milk, and coconut MCT oil. Phil was so inspired by the diet that he started promoting it. If you follow him on social media, you might have seen him promoting Coffee for Wellness. 
Besides coffee, Mickelson was moved by seeing the impact of fasting on his body. He was surprised that fasting could make that much difference. He started losing weight very quickly. Later, Phil said in his interview "I felt that the first step in getting that back was getting in better shape, getting lighter, and what I've noticed is that I've recovered faster".
"I didn't fast to lose weight. I fasted to heal", Phil finished. He also started spending more time in the gym while doing cardio workouts. Within months, Phil noticed tremendous changes in his body and in his ability to do new things. He felt the energy inside.
Before & After Weight Loss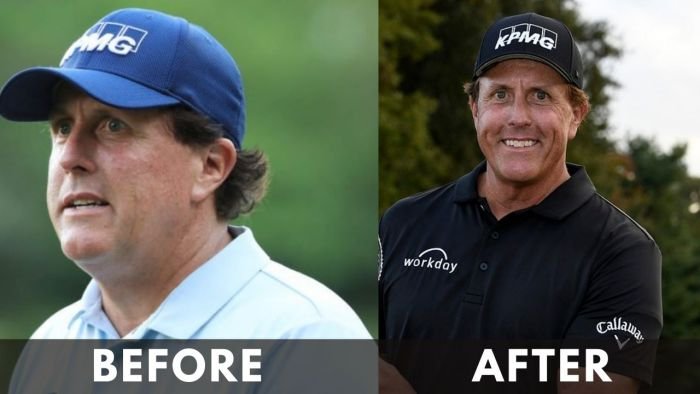 As compared to his old weight, 280 pounds, Phil's current weight is 200 pounds. He has lost around 80 pounds.
Phil about His Weight Loss
When asked how he feels right now, Mickelson answered, "I'm going to continue to eat better, eat less, work out more, just stay committed to it."He continued, "It won't be as drastic or quick, but I would anticipate over the next one to two years I would continue to tick down a little bit".
The famous baseball player, Rafael Devers, has shocked everyone by losing 45 pounds.
Final Words
Mickelson has proven that it is never late for losing weight. By losing unhealthy and extra pounds, Phil has successfully transformed his health. After seeing the tremendous results, he has now decided to get going in the same healthy direction.
You may also like to read: