The comedian and actress, Sherri, has provided us with a lot of entertainment. Not only an actress but Shepherd is also a TV presenter and author.
She has worked in many great sitcoms such as Less Than Perfect and The Jamie Foxx Show. Not only that, but she has also performed as a contestant in Dancing with the Stars.
As Shepherd was making one after another breakthrough in her career, there was one obstacle in the way and it was accumulating with each passing day. During the passage of time, Sherri, with her busyness had gained an unhealthy amount of weight. 
The growing weight was slowing her down. She finally saw it as a warning sign and started looking for a huge weight loss. The problem was her busy schedule. However, even that was solved after the lockdown during the pandemic.
After being in quarantine for months, where people developed unhealthy habits of binge eating and sitting all day watching Netflix, Sherri learned to get out of her old unhealthy habits and shed some pounds. Within months, she succeeded in getting rid of an extra 35 pounds.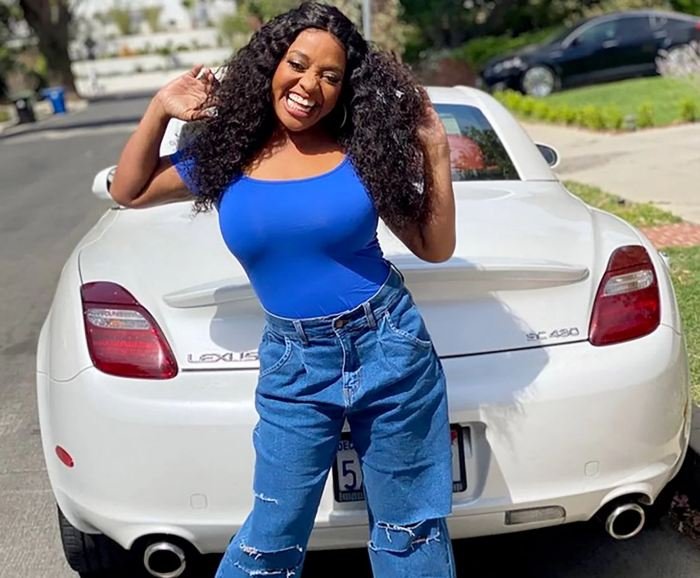 Now, that's something that couldn't go unnoticed. So, right after Shepherd shared her new photo on Instagram, her fans were asking about the secrets behind the sudden change in her appearance. Let's find it out together.
Find out yet another comedian's drastic weight loss. How did Mo'Nique lose 80 pounds?
Sherri Shepherd's Weight Loss Journey
So, what was it that made Sherri think that way? Why did she bother at all? Well, as it happens, the main reason behind her weight loss journey is Sherri's teenage son. "I am doing it for him. I want to stay healthy so I could live with him. So, I could stay with my teenager", Shepherd said in her Instagram video. 
When Sherri said "I wanted to do it", she did not mean weight loss only. She went all on improvement. To explain this, Sherri's statement will do, "Started this weight loss journey 8 mos ago, but making other changes in my life helped me lose even more lbs… getting consistent sleep, meditation, finding a great therapist to help me unpack hurt… forgiving those who've done me harm… more acceptance…"
Sherri continued writing, saying that she has become less religious,  "less religion & more relationship… discovering that God loves me no matter what (yeah I am freaky and I curse), more water, more walking… being thankful, finding my worth… saying no… had to say goodbye to some friends who weren't good for me. Peace makes the weight fall off".
How did Sherri Lose Weight?
Let's turn to the main question, how did she achieve this in the first place? Well, as mentioned earlier, Shepherd has transformed her lifestyle by a huge margin. She has changed every aspect of her life that has to do with eating and moving.
Diet has been her main focus throughout the whole journey. Throughout her weight loss journey, Sherri didn't hesitate to share what she ate and what she did on social media. For lunch and dinner, Sherri's main focus was green vegetable salad. 
This is how Sherri described her experience with the salad and all other healthy food, "Do I want a #2 with fries. Yes, I do, but I love how I feel better more than that cheeseburger that would be clogging my arteries & inflaming the tissue around my heart, causing diabetes to choke the life out of me. I kind of like this feeling of feeling good!"
Sherri also started eating a lot of fruits per day. She stopped having coffee, instead, she started her day with a sip of fresh gorge or carrot juice. Advising her fans, Shepherd said, "I Just want to encourage you to put down the salt shaker, add more veggies to your plate and drink more water! You've got so much to live for!"
Before & After Weight Loss
After losing 35 pounds, Shepherd's current weight is about 160 pounds. Her old weight was up to 200 pounds.
Final Words
A lot of things can be learned from Sherri's weight loss journey. Not only a passion for healthy life but a motherly love is also involved in it. There's a great deal of inspiration in her story for anyone who is looking for it. Sherri has really nailed it.
Also Check: