Tyson Fury, a renowned British professional boxer and wrestler, boasts an impressive track record as a two-time heavyweight champion. His list of accolades includes triumphs in the WBC title, The Ring magazine title, and unified WBA titles.
Notably, Tyson Fury is the third heavyweight boxer to hold The Ring title twice, joining the ranks of Floyd Patterson and Muhammad Ali.
Throughout his career, Fury has always been known for his imposing physical presence.
However, a significant transformation took place recently when he embarked on a remarkable weight loss journey in preparation for his highly anticipated bout against Dillian Whyte.
The extent of Fury's massive weight loss took his fans by surprise, leaving them both shocked and exhilarated.
In his determined efforts to step into the ring for this pivotal fight, Fury managed to shed more than 100 pounds, a remarkable feat that couldn't go unnoticed.
His new appearance left many unable to recognize him, sparking curiosity about how he accomplished such a remarkable transformation. So, what's the secret behind his incredible weight loss?
Also, read the weight loss journey of the strongman and boxer, Hafthor.
Tyson Fury's Weight Loss Journey
In order to get lighter, Fury contacted Connor McGregor's nutritionist, George Lockhart. George helped Tyson in losing weight by making him stick to a healthy diet.
While George made sure that Fury didn't eat anything unhealthy, his personal trainer and coach, Ben Davison, helped him in working out.
And when such a great duo has got your back, there's nothing to worry about. With the help of George and Ben, Tyson made the process of weight loss faster and more efficient. Following are the details about the foods that Tyson ate and the workouts that he did to lose weight
Tyson's Diet Plan
"At the beginning, it was a rough estimate by fat percentage, height, weight, and age but after working with him you get to see how well his body responds to certain foods and how he feels. If he's eating too much or not eating enough," Lockhart told Planet Sport.
Before embarking on his weight loss journey, Fury consumed around 4,000 calories each day, now with the help of George, he reduced the number to just 2,800 calories.
Talking about Fury's diet, Lockhart said, "He eats different meals every single day. If we feed him the same thing every single day then it'll get old but the more variety you get, the more nutrients you'll get."
Tyson started including red meat, chicken, fish, rice, potatoes, blueberries, bananas, broccoli, Greek yogurt, avocado, salmon, spinach, and many more green veggies in his diet. Tyson would have 4 days a meal. He would eat a big bowl of green salad at night.
When asked how much Fury eats, George said, "I thought I would be cooking for an army to feed this guy but Tyson's not really a big eater. Calories right now, if I work the mean out its about 2,800 calories a day. We're trying to shove food down his throat."
He significantly reduced the amount of oil in his food. Fury would also eat raw vegetables along with fruits.
In fact, fruits were a great source of sugar for him since he gave up all kinds of sugary processed foods. He would also drink a lot of water. Partly to kill the urges of unnecessary hunger and partly to keep himself hydrated while working out.
Tyson Fury's Workout Plan
While George was preparing a healthy diet plan for Fury, Ben carved out an efficient and healthy workout routine to be followed. Tyson would start his day by running for a mile after which he would have his breakfast. And then it was time of hitting the gym.
Fury visited thy gym two times a day. In the morning after breakfast and then at night after dinner. He would spend 5 hours a day at the gym. That's how Fury lost more than 100 pounds successfully in a very short period of time.
Tyson would do all kinds of workouts. He would do heavy weight lifting and run on the treadmill, do push-ups, pull-ups, squats, lunges, crunches, sit-ups, and boxing. Fury also engaged in hiking. Ben made sure that Fury lose his fat while gaining more muscles.
Before & After Weight Loss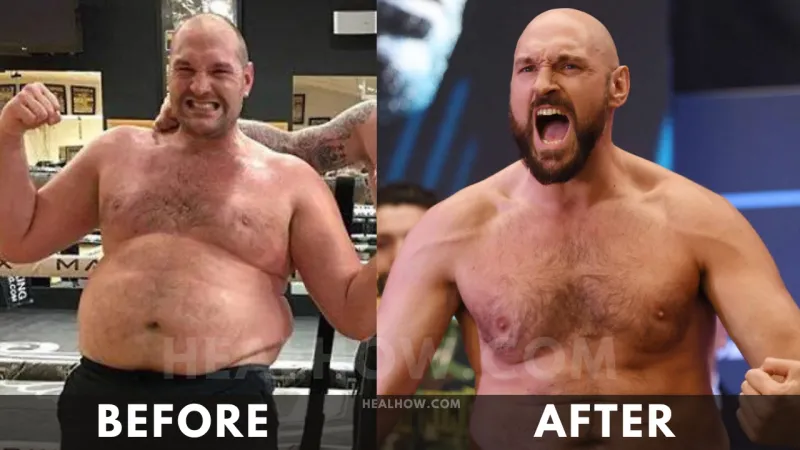 Tyson's weight loss was so astounding that it not only surprised his dedicated fans but left every boxing enthusiast in awe. He managed to trim down from a weight of approximately 400 pounds to a remarkable 273 pounds, shedding more than 100 pounds in the process. This incredible transformation was undoubtedly the result of Tyson Fury's relentless dedication and hard work over several months.
Tyson Fury vs. Dillian Whyte
The bout took place on 23 April 2022 at Wembley Stadium in London, England. Tyson won the fight by technical knockout in round 6. Apparently, all of Ben's and George's efforts paid off in the end, and Fury won the fight.
Read about the 50 kg weight loss transformation of the British boxer, Eddie Hall.
Final Words
When we analyze the saying, No Pain No Gain, it makes a lot of sense. If you imagine any situation in your life in which you gained something, there would be pain of any kind involved in that.
No matter whether it is physical pain or mental pain. And Tyson Fury's weight loss journey explains this in a more comprehensive way.