Born in California, USA, Lisa is one of the most celebrated motivational speakers in America.
She is the CEO of Motivating the Masses, which focuses on personal development. Nichols has written various books on motivation. She is very popular among young people.
In 2016, Lisa published her new book, Abundance Now: Amplify Your Life & Achieve Prosperity Today. But it was not only the book that was new. On the cover, there was a photo of Lisa with a new figure and a new appearance. 
This surprised her fans and followers. When asked what is happening, Nichols answered, "I'm improving".
She had lost 78 pounds or should I say, she 'released' 78 pounds. In her interview with Essence, Lisa said:
"Everyone says that 'how did you lose weight?' Well, I don't like the word lose. I would answer that 'I released 78 pounds'. It is not like that I have lost weight and one day I will find it. I've just gotten rid of extra 78 pounds that I am not looking forward to finding again."
Also, read how the meteorologist, and weathercaster, Lisa Meadows, lost 20 pounds.
Why did Lisa Lose Weight?
There is a sad and true story behind Lisa's weight gain. She said, "I had this jacket of 78 pounds, that I had worn to protect myself and my son from reality." Lisa's husband was in jail and she was living with her son and things weren't better.
Nichols said that she had found comfort in food and would escape reality by eating.
However, as time passed and things got hard, Lisa realized that none of it was making it any easier. She knew that she had to stand up or otherwise would be lost.
This was the moment, Nichols decided to change her life. Despite her realization, Lisa was struggling with being overweight.
It was proving so hard to take action. Even after becoming a best-selling author, Nichols was struggling with losing weight.
The decision of Weight Loss
You must be asking right now, 'Then how did she lose weight?'. Well, it was on the set of The Steve Harvey Show that Lisa decided to lose weight.
When they were discussing new year's resolutions, one woman from the audience asked Nichols about how to lose weight.
It was a dilemma. Here is what Lisa said about the situation, "I felt like I would be a fraud if I didn't meet her where she was. I was not ready to share my scale numbers and just said, 'I'm committed to losing 45 pounds by my next birthday in May.'"
Nichols added, "I had declared to the world something I had wrestled with in private."
After the declaration of her new year's resolution, the next thing was to figure out a plan following which, Lisa had to lose pounds.
Lisa said, "When you want to go on a cross-country trip. Say a 3 or 4 thousand miles long trip, the first thing you check is whether the vehicle, in which you are going to travel, is capable of that journey."
She continued, "Our life is a journey as well. So, if you want to achieve something great in this life, then you must check whether the vehicle, in which you are going to travel, is capable enough or not. That is your body."
How did Lisa Lose 78 Pounds?
In order to lose the weight that Lisa had gained to protect herself from reality, she changed her lifestyle.
Nichols started eliminating unhealthy habits from her life and replacing them with healthy ones. She prepared a healthy diet plan. 
Lisa also joined a gym to do exercise. Yes, it was hard and uncomfortable. But she knew that it was the right thing to do.
Above all, Nichols adopted a healthy mindset. She created a set of simple rules to help her lose weight.
And as she followed those rules, Nichols started feeling the change in her physique. Here are the details:
1. Becoming Realistic
There is no doubt that losing weight requires a considerable amount of effort. But we must be realistic.
Whenever we decide to lose weight, we become overwhelmed. We don't see things as they are.
We don't take our inherent limitations, as humans, into account. We think that we are going to lose 50 pounds in one month.
Lisa said while talking about this, "Becoming realistic is the first step in releasing weight. When you say 'I am going to release 20 pounds', it is great but to say 'I am going to release 20 pounds in three weeks' Maybe you can but it will have other side effects. You will be stressing things so much that your overall health will be affected."
2. Becoming a Member of an Accountable Community
We, humans, are social animals. We all need a community to rely on. Living a lonely life is very hard for humans.
That is why social media is so much used. Everyone is trying to find their community based on their beliefs and values.
So, if you are taking a big decision to change your life, such as losing weight, why not do it with someone else?
Someone, who is also struggling with the same problem as you. Someone, who needs a hand just like you do. 
Talking about this rule, Nichols said, "The first thing I did was I asked people to join me, hold me accountable. Let's do this together. Let's do this as a tribe." Having someone who holds you accountable for your improvement is a blessing.
To help people find partners in releasing weight, Lisa has created an online platform, BEFITWITHLISA.com.  
An accountable community not only holds you accountable when you are not doing what you meant to but it also cheers you when you are doing the right thing.
When you are staying away from unhealthy food or you are working out more than before. It is crucial for motivation.
3. Be Willing To Press Reset
If you are trying to lose weight, this is something you don't do often. So, on the way to losing weight, you will see a lot of obstacles.
Remember, when we try something new, there are good chances that it will not happen in the first go.
So, while trying to lose weight, if you get out of track, if you fall in for the fast-food advertisement, or if you escape one day of workout, never let that stop you. As Lisa said, "Never let a speed bumper become a STOP sign."
All these simple but healthy rules helped Lisa in getting rid of her unhealthy weight. And there is no doubt that if you follow these rules, you will live a healthy life too.
Also Read: Steven Strait Weight Loss
Before & After Weight Loss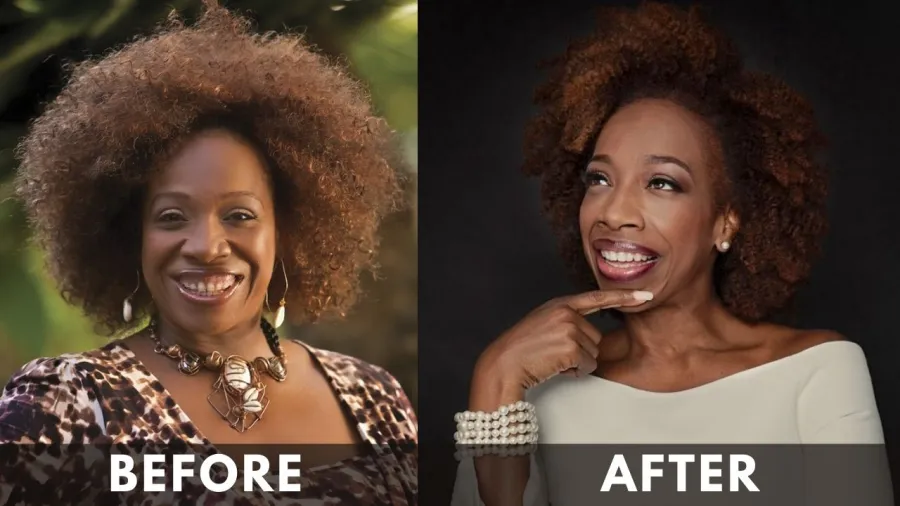 After following a healthy diet and exercising in the gym, Nichols has released 78 pounds.
After this huge change in her physique, Nichols' current weight is 127 pounds as compared to her old weight of 200 pounds.
The American charismatic Christian speaker and author, Joyce Meyer, has lost more weight than she intended to.
Final Words
Nichols not only changed her life for good, but she is also doing the same for others.
By writing books and doing seminars full of energy and motivation, Lisa has changed the lives of thousands of people.
I hope that her weight loss story gives you enough motivation to take charge of your life.
Also Read: Damaris Phillips Weight Loss