Matthew is an American actor. He rose to fame after appearing in the coming-of-age comedy movie, Dazed and Confused.
McConaughey has worked in some of the all-time successful movies such as Contact, Interstellar, The Gentlemen, and Killer Joe.
Matthew is quite famous for his acting talent and the way he transforms himself into the characters he plays.
We have seen this art of his in Interstellar and Killer Joe. He did the same while playing Ron Woodroof in Dallas Buyers Club. Matthew lost 50 pounds to play the character.
And the way he lost weight was even more shocking. Within a couple of months, McConaughey dropped his weight to 135 pounds.
With this huge transformation, he freaked his fans and followers out.
However, when Matthew told the reason behind his weight loss, fans took a deep breath.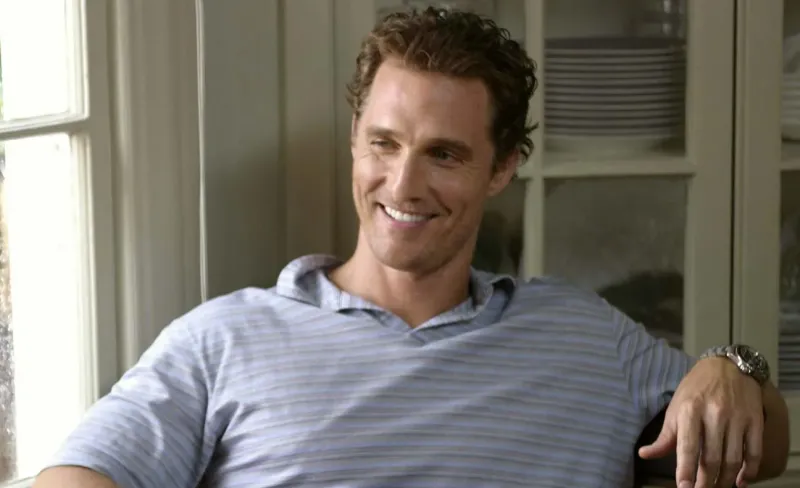 So, how did he do that? Well, it's a hell of a story. Matthew started his weight loss journey at the start of 2012.
Let's dive deep into his weight loss journey and find out how he shed pounds.
Find out how Brandy Norwood's daughter, Sy'Rai Smith lost 60 pounds by changing her diet.
How did Matthew McConaughey Lose Weight?
He lost weight by radically changing his diet plan. Matthew took a complete 180-degree turn on his diet and successfully transformed into Ron Woodroof's character.
McConaughey cut down his calorie consumption by half a margin and ate only lighter foods.
Also Read: Kat Timpf Weight Loss
Matthew's Diet Plan
Talking about his diet on The Joe Rogan Experience, Matthew said, "I ate nothing but vegetables, fish, egg whites, and tapioca pudding. And I drank as much wine as I wanted."
And that was it. Matthew ate exactly that to lose weight and it was super successful. 
He said that since he didn't eat much food, he tried to last his limited food as long as possible.
He said jokingly, "I found tapioca pudding, and I found the tiniest little antique spoon in New Orleans, a little-bitty sugar spoon, and I would eat it with that so it would last longer."
At first, it proved to be quite hard for him to follow this diet plan, however, with time, his body built resilience and Matthew succeeded in shedding pounds.
Talking to Joe Rogan, McConaughey said, "All the energy that I lost from my body shifted to neck up."
He added, "I felt so strong mentally. My mental game was so acute and so on point, I was clinically smart.
It didn't matter if I had drunk my wine until 1 in the morning, At 4:30 am, no alarm clock, bang I was up. Every morning, had an incredible amount of mental energy."
As shocking and exhausting as Matthew's story sounds, he lived every moment of it to full. 
Matthew Stayed Away from Temptations
While talking about his diet, Matthew said, "I stayed around the meals that my wife made for me.
I didn't expose myself to anything. I didn't go to pizza hut and said 'I'm not eating pizza'.
My wife made me the meals and I stayed in and studied and wrote and created the character."
Staying away from the tempting food made the process even easier and faster.
As he didn't have to fight the temptation to grab a burger, McConaughey used his whole mental energy in transforming himself into the character. 
Also Read: Brenda Grettenberger Weight Loss
Matthew's Workout Plan
Even though McConaughey's whole weight loss journey is a shocking story but what might shock you more is the fact that he didn't do much exercise.
Yes, you read it right. He lost 50 pounds without much exercise.
Basically, Matthew was starving himself so there was little room for exercise. And no matter what, with the amount of food he was eating, he was bound to drop a huge amount of weight.
Talking about his exercise, he said, "It didn't matter if I was going to the treadmill and burning 2,000 calories a day or not, 2.5 pounds a week."
Also Read: Jacob "Buck" Lowe Weight Loss
Before & After Weight Loss
After cutting down his normal food consumption and eating only a small portion of food, McConaughey succeeded in losing 50 pounds.
He dropped his weight from 185 pounds to 135 pounds.
Also Read: Post Malone Weight Loss
McConaughey Defended His Weight Loss Technique
During the podcast, when Joe said to Matthew that he was torturing himself, he replied in an instant saying, "I did not torture myself. I was militant.
The hardest part was making the damn choice," he added, "It was my responsibility.
If I looked how I look now and played Ron Woodroof from 'Dallas Buyers Club,' you are out of the movie the first frame." 
The famous TV personality, author, and chef, Alton Brown, has recently lost shocked his fans by losing 50 pounds.
Final Words
There is no doubt that Matthew succeeded in losing weight and in achieving his desired physique but there is also no doubt that it was a very dangerous technique.
Matthew, himself, admitted that his "body is still recovering".
So, please don't follow in McConaughey's footsteps while losing weight. There are plenty of other ways to do that.
Also Read: