Of all the weight loss stories, Jonah's is the most interesting one. He went from looking like a chubby, meatball to a slimmer and more handsome person.
It is right that Hill had gained weight multiple times intentionally to play his character but his weight has been a problem for him since his childhood.
Jonah's new appearance was jaw-dropping for his fans. He shocked not only his fans but also his colleagues and friends.
Ever since his huge transformation fans are trying to find out how did he achieve that. 
Hill has lost weight by simply working on his habits. He has succeeded in losing 42 pounds because he eliminated his old unhealthy habits.
So, get ready to find out interesting facts about Jonah's weight loss journey.
Also Read: Bobby Brown Weight Loss
Jonah Hill's Weight Loss Journey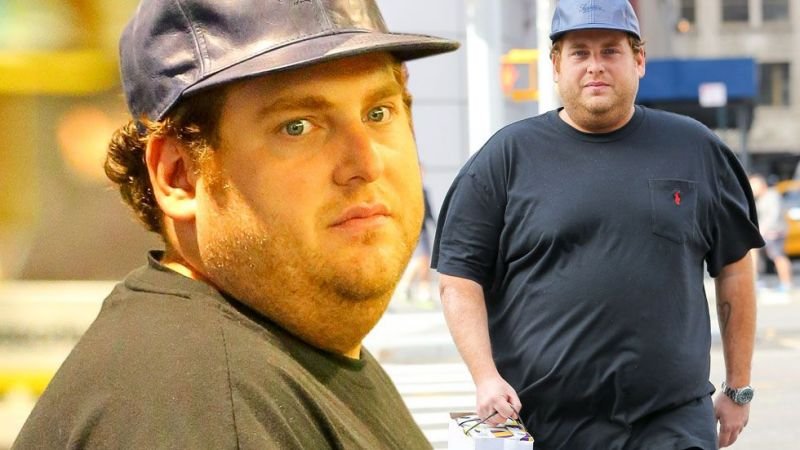 Jonah was thinking about and trying to lose weight for a long time. However, the real opportunity came when the shoot for War Dogs was done.
Hill had gained some extra pounds, adding yet to already huge weight, to play in the movie. 
When the work was done he knew that it was the perfect time to get rid of the unhealthy pounds.
To take this step, Jonah needed support. For this, he called his buddy and famous Hollywood star, Channing Tatum. "Hey, if I ate less and go to a trainer, will I get in better shape?" Hill asked Tatum. 
Tatum obviously cheered his buddy up and replied "Yes". The American actor has previously tried to lose weight in the past but couldn't succeed.
However, he made up his mind this time and was very optimistic about it. Jonah worked on his diet and workout plan a lot.
You may also like to read about Lavell Crawford's weight loss journey from 307 to 187 pounds.
Jonah's Diet Plan
Even though he had the habit of overeating there was another factor that was causing exponential growth in Hill's weight.
It was his drinking habit. Hill admitted his weakness in the following way, "It's so annoying because if I don't drink beer, I get really thin, and then when I drink beer, I get a little bigger". 
Not sure about his "getting thinner" though but that "getting bigger" was on the point.
So, first and foremost he had to defeat the demon of drinking. Hill knew that if he couldn't get over the drinking habit then he would get even bigger.
The good thing is that Jonah succeeded in slaying the drinking demon. However, not completely.
He now only drinks on occasion. "I still drink beer, that's my Achilles' heel," Hill told in his interview. 
After getting over his drinking habit, Jonah also got over his cravings for fast food. He substituted his fast-food consumption with the Japanese recipe, Sushi.
It is a traditional Japanese dish of prepared vinegared rice, accompanied by a variety of ingredients and usually with some sugar and salt.
Hill limited dairy products consumption as well. In place of eating high-calorie food, Jonah transferred to a fruit and veggie diet.
For lunch and dinner, he would have green vegetable salad, greek yogurt, and chicken breast.
And for breakfast, he would have a glass of gorge juice in place of tea or coffee. With these positive changes came positive results.
Also Read: Newt Gingrich Weight Loss
Jonah's Workout Plan
Not only diet, but Hill also gave equal attention to his workout routine.
He knew that controlling only his diet plan wouldn't make much of a difference until he burned his calories and vice versa.
Hill joined a gym where he would work out for more than an hour. He also started taking long walks in the morning while listening to music. 
Also Read: James Harden Weight Loss
Before & After Weight Loss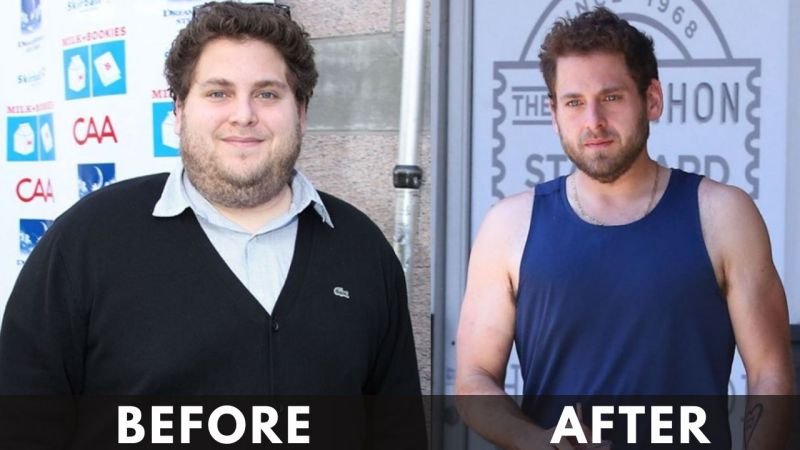 As you can see a huge difference Hill has made. His current weight is 185 lbs after losing 42 lbs (3 stone).
However, formerly Jonah weighed about 230 lbs. 
Also Read: Questlove Weight Loss
Jonah isn't Comfortable with Rumors
Hill wrote on his Instagram, "I know you mean well, but I kindly ask that you not comment on my body.
Good or bad I want to politely let you know it is not helpful and doesn't feel good.".
After fighting obesity for months, Hill doesn't want rumors to spread about his weight. 
Also Read: Retta Weight Loss
Final Words
After struggling with being overweight, Hill has finally changed his appearance for the good of his health.
After this transformation, Hill seems very optimistic and he should be.
I hope that Jonah Hill's weight loss story helps you in sorting out problems (if any) and gives you inspiration.
Also Read: