Melissa is an American actress, writer, comedian, producer, and fashion designer. Throughout her acting career, McCarty has won various accolades.
Some of the awards that she has won are two Primetime Emmy Awards and a People's Choice Award. 
Besides that, she has also been nominated two times for the Academy Awards. All in all, her acting and comedy career has been a success.
However, what gave her a tough time was her weight. She has seen a lot of ups and downs when it comes to her weight.
In the same year, she was reported weighing 200 and 250 pounds. Talking about this, McCarthy said, "I've been every size in the world."
However, the fluctuations in her weight have become a thing of the past.
Weight Loss Journey
Recently, Melissa made headlines by losing a whopping 70 pounds. This unexpected and huge transformation surprised everyone.
Melissa's fans were so excited over the fact that they stormed her inbox asking what was she up to.
Well, McCarthy was simply working on her health and nothing more. So, how did she do it?
Melissa lost weight because she made some right decisions at the right time.
McCarthy had to face a lot of challenges when she was plus-sized.
Let's dive into her weight loss journey.
Also, read how the English actress, Kate Winslet, keeps herself healthy and fine by following a healthy routine.
How did Melissa Gain so much Weight?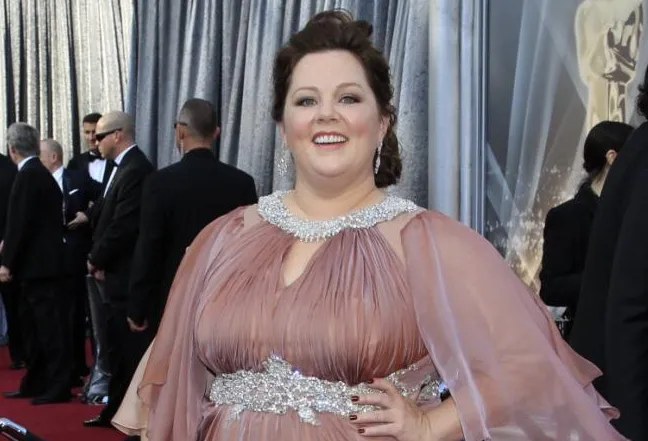 Melissa wasn't always an oversized person. She gained extra and unhealthy pounds because of some negative habits that she built.
"For parts of my twenties, I was in great shape, but I didn't appreciate it," Melissa recalled the old days.
She added, "If I was a six or an eight, I thought, 'Why aren't I a two or a four?' Now I feel like I have two great kids and the dreamiest husband on the planet, and everything else is just a work in progress."
With the passage of time, Melissa fell in love with fast food. She also liked cake a lot.
Now, these combined can be the fuel for obesity.
And this is what happened to her. She gained a lot of extra pounds, which were slowing her down.
Also Read: Matthew Hagee Weight Loss
Melissa's Difficulties with Being Plus-Sized
As soon as McCarthy became oversized, her difficulties started. The most frustrating of all problems was going shopping.
Talking to the Redbook, she said, "When I go shopping, most of the time I'm disappointed."
She said that even the best designers refused to do dressing for her. As a result, Melissa decided to do her dress herself.
Addressing the problem faced by many women, Melissa said, "Women come in all sizes.
Seventy percent of women in the United States are a size 14 or above, and that's technically 'plus-size,' so you're taking your biggest category of people and telling them, 'You're not really worthy.'"
By designing her own clothes, Melissa thought about why shouldn't she do it for other women as well.
Melissa started her own brand with the name Melissa McCarthy seven7.
However, currently, the brand is not in production but she does design dresses now and then for different brands.
Also Read: Mauro Castano Weight Loss
Melissa is Tired of Following Strict Diets
At first, she tried to lose weight by changing her diet radically. However, it proved to be a bad idea.
McCarthy tried to follow strict diet plans such as vegetarian, keto, or paleo diet plans.
After trying for a few weeks, McCarthy said, "I'd never do that again. I felt starved and crazy half the time." 
How did Melissa Lose Weight?
If she didn't maintain a strict diet, then how did Melissa lose weight? This is the question that bothers her fans a lot.
Losing weight by simply focusing on just healthy food, McCarthy also shocked the experts. She, herself, is surprised by the fact.
"I truly stopped worrying about it. I think there's something to kinda loosening up and not being so nervous and rigid about it that, bizarrely, has worked," McCarthy told the interviewer.
She eliminated all kinds of processed food from her diet.
Also Read: Mike Mcshane Weight Loss
Melissa has a simple daily routine. She wakes up early at 4 a.m, prepares breakfast, and goes for a long walk with her two dogs.
On returning, she gets the girls ready for the day and then drives them to school. 
This might sound like a very simple daily routine but it has worked in a great way for McCarthy.
By going for a walk in the morning, she remains fresh for the whole day. She only eats homemade food and sticks to her daily schedule.
Talking about her weight loss, McCarthy said that she lost weight by being bored. That's the main point.
A daily routine does sound boring but it is the secret to a healthy and happy life. A healthy daily routine is what makes our lives better and brings happiness.
Melissa also exercised a lot. She lifted weights and did squats. Besides that, she also practiced yoga, which made a big difference.
As of now, McCarthy is a lot better than before and has a very healthy body.
Also Read: Traci Braxton Weight Loss
Before & After Weight Loss
After losing 70 pounds and getting rid of the unhealthy things in her life, McCarthy now weighs around 180 pounds as compared to her old weight, of 250 pounds.
The American actress and singer, Jordin Sparks, has lost nearly 50 pounds. Find out how.
Final Words
There is no doubt that Melissa has undergone a lot of challenges while trying to live healthily.
There is a problem with our culture, the problem is passing comments on something that one is totally unaware of.
If you are not helping someone in achieving their goals or in living a healthy life, kindly don't pass any comments too. I hope that Melissa's fans got their answers, Thank you.
Also Read: