In the 2004 presidential elections, there was a candidate named Al Sharpton. Although he didn't win the elections, his story is quite fascinating. He's not just a politician; he's also a civil rights activist, a radio show host, a Baptist minister, and the founder of an organization called the National Action Network.
But here's something surprising about Sharpton. While he's accomplished a lot in his political career and other areas of his life, one of his most remarkable achievements is related to his health. He once said, "I actually lost more weight than I am!" This caused concern among his fans. They wondered if he was sick or dealing with some health issues.
The good news is that Al Sharpton wasn't battling an illness. In fact, he decided to shed those extra pounds to protect himself from getting sick. So, why did he lose weight, and what disease was he trying to avoid? Let's find out!
Find out how the former American president, Bill Clinton, became vegan and then lost 30 pounds.
Why did Sharpton Lose Weight?
While busy in his political career, Sharpton had lost track of his health. His weight had reached an alarming number of 305 lbs. It was gradually slowing him down. Sharpton was thinking about losing weight for a very long time, however, there wasn't any motivation.
It came from his youngest daughter as kind of a joke. "Around 2006, my youngest daughter, Ashley, poked me in the stomach and said, 'Dad, why are you so fat?' That kind of hurt my feelings", he told PEOPLE.
He said that he grew up in civil rights and politics but it hurts very badly "when your daughter says it". So, that's how Sharpton finally became ready to take action against obesity and got rid of 176 pounds. Yes, you read it right.
However, after answering this question, another one rises. That is, how did he do that? How did Sharpton lose that much weight?
Al Sharpton's Weight Loss Journey
Sharpton lost weight because he started observing things. He started taking notice of his daily habits and found out that he was doing a lot of mistakes. The civil rights activist started making changes to his daily diet plan. Besides a diet plan, Sharpton also did a lot of workouts.
He had tried to lose weight in the past but sadly it didn't work very well. So now Sharpton was well-prepared to get healthy. Just like he said, "The key to it is Determination". Here are the details about the talk show host's weight loss plan.
Sharpton's Diet Plan
"My doctor said to me, 'You've got to have some carbs and you need protein,' so he put me on whole-wheat toast", Sharpton said. He follows the doctor's advice with complete discipline. Sharpton has three wheat toasts for breakfast along with green juice and English tea.
His lunch is even simpler, basic salad with a banana and tea. And for dinner, Sharpton usually has salad and wheat toast. In his interview, Al Sharpton said, "It's always the same salad, lettuce, tomatoes, cucumbers, onions, two or three boiled eggs cut in and balsamic vinaigrette dressing".
Except for shifting to healthy eating, he also drank a lot of water to maintain his hydration level. Al would do a lot of hard work in the gym so excessive sweating became a normal thing that needed a backup. In a day, he would drink 15 glasses.
At first, Sharpton had a very hard time. His old unhealthy eating habits were trying to take over but he showed real resilience. And with his power of will, Sharpton made the new and healthy diet plan his daily routine.
Here's how he joked about his new and old eating habits, "I was a fried chicken junkie. I used to eat it for breakfast, lunch, and dinner, but after about three or four weeks, I didn't have a longing for that either".
Sharpton's Workout Routine
As much as he cared about his new eating routine, he gave the same importance to his gym time. Sharpton would spend about an hour in the gym on daily basis. He would lift weights, and do cardio. The civil rights activist starts his day by walking on the treadmill for 30 minutes daily. 
"I'm not doing it so I could run a marathon. I'm doing it to stay healthy and keep my blood flowing", Sharpton explained the reason behind his workout routine. By putting in all his efforts, he lost this massive amount of weight.
Before & After Weight Loss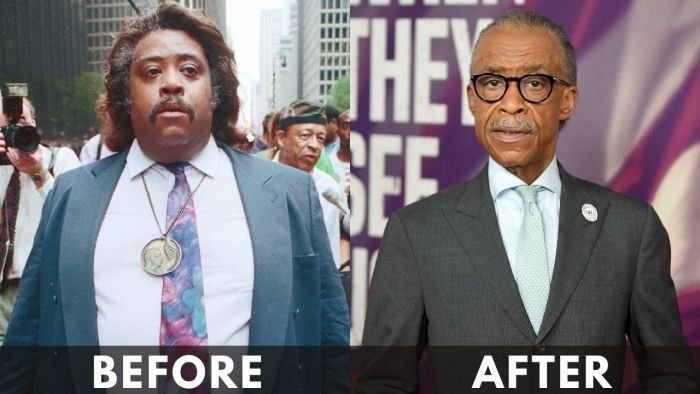 Al Sharpton's transformation is truly remarkable. In the past, he carried a weight of 305 pounds, which is quite a substantial number.
However, today, he has shed an incredible 176 pounds, bringing his current weight down to just 129 pounds. When Al Sharpton mentions, "I actually lost more weight than I am!" he's not exaggerating.
The difference in his weight is astounding and something to be admired. It's like he's become a whole new person through his commitment to a healthier lifestyle.
Sharpton's Comments on His Weight Loss
While counting the benefits of his huge weight loss, Sharpton said, "The best part is that I've got a lot of energy and also I can focus now. I feel like I'm in charge of my life. And I've been able to get a very nice wardrobe as well!" He enjoyed his weight loss lifestyle so much that he still maintains it.
The American politician, lobbyist, and attorney, Pam Bondi, has become slimmer than before.
Final Words
It is true that losing weight can be hard but believe me, it is totally worth it. And the only difficulty you will face will be at the start. Once you get familiar with your new routine, things will become easier and you will feel very healthy. Just like Al Sharpton did.
Also Read: