The winner of the very first season of American Idol in 2002, Kelly Clarkson, has had an incredible journey in her career. Right after winning the show, she signed a big record deal with RCA, and her debut single, "A Moment Like This," became a huge hit, making it the best-selling single in the country.
But as the saying goes, "With great power comes great responsibility," and as Kelly's fame grew, so did her busy schedule. She was churning out hit singles one after another and spending a lot of her time on tours and concerts.
Amidst all this hustle and bustle, Kelly faced a challenge. She found herself gaining a significant amount of weight, which was slowing her down.
However, she didn't let this obstacle stop her. In fact, she took action and managed to shed an impressive 40 pounds. But that's not the end of the story.
There's more to discover about her journey to a healthier lifestyle. Let's dive in.
Why did Kelly Lose Weight?
It is true that weight was slowing Clarkson down but it wasn't the reason she lost weight. It was a part of the problem. Read in Kelly's own words, "I had an autoimmune disease and a thyroid problem that started in 2006". 
Autoimmune disease happens when your body fails to differentiate between your cells and foreign cells and as a result ends up attacking the normal cells.
Clarkson continued, "I know the industry loves the weight gone, but for me, it wasn't really the weight. For me, it was 'I'm not on my medicine anymore'".
The music Industry is a Confusing Place
A lot of us might think that Kelly has faced a lot of problems in the industry because of her increasing weight. However, that wasn't really the case.
In fact, it was quite the opposite. Kelly was often criticized for her thin body (of course in her earlier years).
Clarkson recalled the days as, "I felt more pressure from people actually when I was thin when I was really thin, and not super healthy because I just was worn out". However, as Clarkson's weight increased, such complaints ceased to be received. In fact, her gaining weight was becoming a problem.
Kelly Clarkson's Weight Loss Journey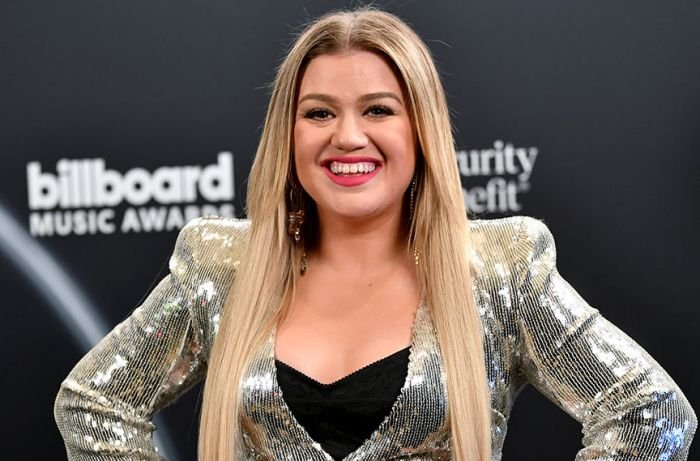 Now, let's turn to the main question of the article, How did Kelly Lose Weight? After struggling with the autoimmune disease and gaining weight for a while, Kelly started searching for answers. Answers that would solve the problem of increasing weight.
To sum up Clarkson's weight loss, here is what she said, "I'm not working out!" Kelly said. "I literally read this book, It's called The Plant Paradox. It's basically about how we cook our food, non-GMO, no pesticides, eating really organic".
Kelly eats organic food whenever it is possible. She is not a fan of workouts so she gives much attention to her diet plan. In this way, Kelly has not only been successful in losing 40 pounds but has also kept them away successfully.
Since she cut and lost extra pounds, Kelly has maintained her lifestyle in the same way. She avoids eating out as much as possible. Kelly has also limited her drinking habits.
As she has followed a healthy routine in terms of eating, she has also chosen carefully what to drink and what to not. The American singer starts her day with a glass of fresh fruit juice.
Also, how Jessica Simpson loses weight
Before & After Weight Loss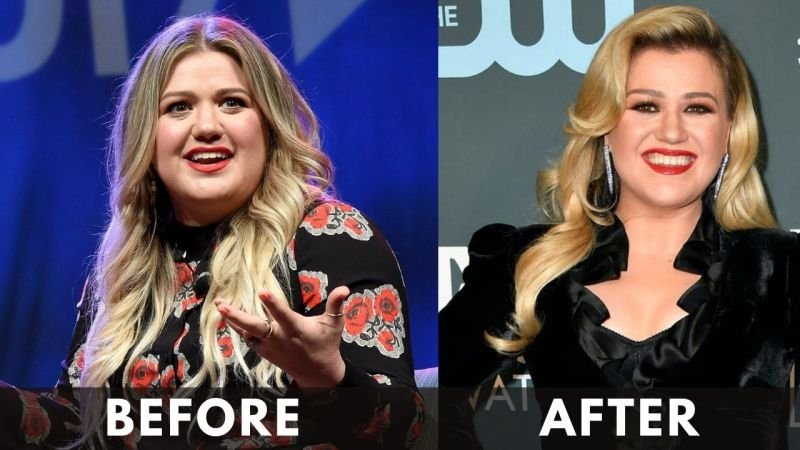 Kelly currently weighs 154 pounds, which is a big change from her previous weight of 194 pounds. She's been working on improving her eating habits, and she's made amazing progress.
In fact, the American Idol winner has successfully lost 40 pounds! That's quite an achievement!
Kelly's Response to the Body Shamers
Just like a lot of other female celebrities, Clarkson's increasing weight made some people go out of their limits as well. She received some comments that were full of bullying. However, the brave singer was having none of it. 
Clarkson's following reply was enough for haters, "If you gauge your life on what other people think, you're going to be in a constant state of panic trying to please everyone". She continued, "People should just concentrate on their own lives and their own health and their own happiness, and whatever that looks like for you, be happy with it".
Final Words
There is a lot to be learned from Clarkson's weight loss journey. It not only teaches how to lose weight but also how to stay confident during the whole process.
We must care about what is best for us not what others think is best for us. Because it is our life and we should live it. We should not let others tell us how to live.
You may also like to read: