Smith is a multi-talented person. He is a filmmaker, actor, comedian, author, YouTuber, and comic book writer.
Kevin came to public notice and rose to fame after the release of the low-budget comedy buddy film, Clerks. Since then, Kevin has produced and worked in many movies.
His YouTube channel has more than 500k subscribers. Although Kevin's filming and acting career have been quite successful, he didn't have much success with his health. The main problem that Kevin faced was fluctuations in his weight.
Now and then, he always had to lose weight. In other words, Kevin has had a history of yo-yo dieting.
One time he would be struggling with obesity and then after maintaining discipline, he would lose weight.
However, the problem was that he would gain the lost weight again. He even suffered a heart attack because of obesity.
Also, read how the American documentary filmmaker, Michael Moore, struggled with obesity for a long time and succeeded in losing 70 pounds.
Why did Kevin keep Gaining Weight?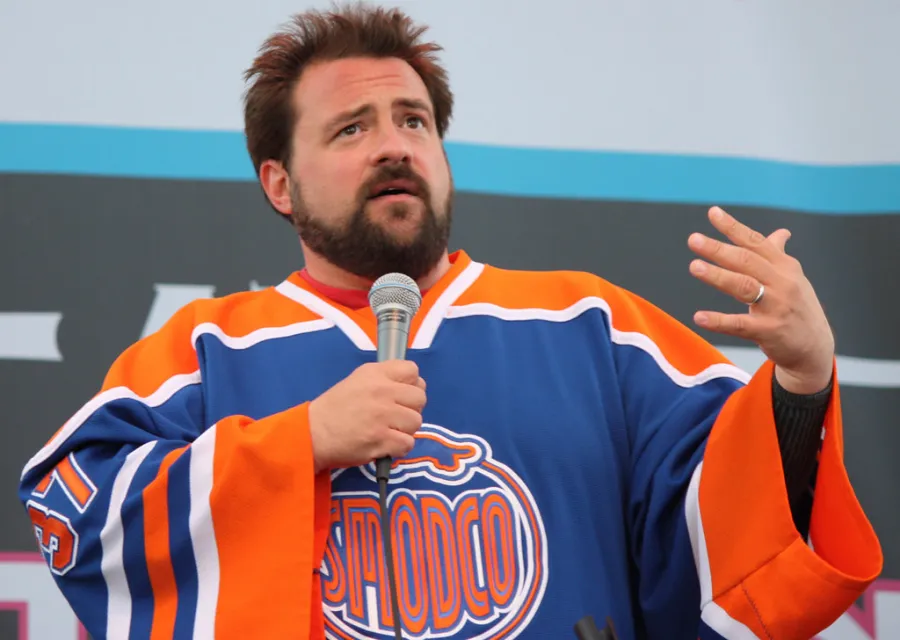 After reading this, the first question that might come to your mind is why he keeps gaining weight.
Well, the most simple answer is his love for food. The main reason behind Smith's weight gain is his love for fast food.
Another factor was smoking. After smoking cigarettes in Clerks (1994) just for the sake of acting, Kevin became addicted to them.
He couldn't get rid of them until 2008 when his wife helped him in getting out of the addiction.
Another big reason behind the instability in Kevin's weight is his busy schedule. Being multi-talented can be super busy.
As his busy schedule didn't allow him to follow a well-prepared diet plan Kevin ate whatever food he could get during work mostly fast food. Following is the timeline of Smith's weight loss and gain.
Also Read: Tom Kerridge Weight Loss
Kevin's Weight Loss in 2005
Accumulating throughout the years, Kevin's weight reached an alarming amount of 319 pounds.
His doctors advised him to get rid of the extra pounds as soon as possible. Smith avoided fast food consumption. He also limited his alcohol intake.
And along with that, he also started working out in the gym. With all these efforts combined, Smith succeeded in losing 50 pounds. He got from 319 pounds to 269 pounds. 
Kevin's Weight Loss in 2008
As mentioned earlier, Smith never stayed in one place. After a year of losing 50 pounds, Smith started gaining weight again.
However, this time he gained weight much faster than before. Within a year, Smith's weight reached his highest of 400 pounds. 
Yes, you read it right. But Smith isn't one of those who give up too early. Instead, he kept fighting.
This time, he changed his diet even more radically. Kevin completely eliminated sugar from his diet. In this way, he succeeded in losing 70 pounds, going to 330 pounds.
Kevin's Weight Loss in 2015
After shedding 70 pounds, Smith kept following a healthy lifestyle. This time, he stayed on track and kept losing more unhealthy and extra pounds.
He also started doing juice fasts. In this way, Smith successfully lost 90 pounds. 
This huge change in Smith's weight brought a lot of positivity. Now, Smith started aspiring to live a healthier life with a healthy body.
But again his work came in the way and he ended up gaining 16 pounds, his weight reaching 256 pounds.
Also Read: Martin Clunes Weight Loss
Kevin's Weight Loss After a Heart Attack in 2018
On February 25, 2018, Kevin suffered a heart attack after performing a stand-up comedy.
The heart attack occurred because of a total blockage of the left descending anterior artery.
He was immediately rushed to the hospital, where after the performance of emergency surgery, he was saved.
This heart attack was a final call to action against obesity and it shooked Smith. Without any delay, Kevin started consulting with experts about how to lose weight and how get in shape. This heart attack was also a shock for Kevin's fans.
Kevin was advised by the scientist, Ray Cronise, to follow the diet plan developed by Joel Fuhrman.
The diet involves a single plant-based food. So, the condition is to become a vegan. Kevin's reply to Ray was "I don't want to f*ckin' die. I will go vegan".
After that, Smith shifted to a vegan lifestyle and as of now he still is a vegan. Of course, it was quite a big change but it saved Kevin's life. And now his whole family is vegan. Here is how Kevin's diet plan goes:
Kevin's Diet Plan
After suffering a near-fatal heart attack, Smith gave up every kind of unhealthy food. Whereas before he was in love with fast food and dairy products, now he avoided all of them.
Talking with Men's Health, Smith said, "I was so addicted to milk. I know it is embarrassing but I used to drink like two gallons of milk every day. And probably this was the reason for my heart attack."
While being on Joe Rogan's podcast, Kevin explained his vegan diet as "It's not an ethical thing. My daughter is vegan because she loves animals. I became vegan because a plant-based diet reduces your numbers of cholesterol."
Smith starts his day with either a glass of smoothie or a glass of iced tea. As he has abandoned dairy products there is no more milk in his breakfast. His single plant-based diet consists of potatoes.  
Talking about his potato diet, Smith said, "I know it sounds boring, and believe me it is boring. I've come from like death so I would do anything to live a healthier life. One good thing about potatoes is that they keep my energy level high."
He further said, "I don't buy the idea that you need breakfast. I don't eat breakfast and my energy remains the same."
At first, Kevin was advised to eat potatoes for straight two weeks and nothing else. This proved to be a very hard thing but he didn't give up and kept fighting.
Smith eats only one meal a day around 3'o clock. However, on some days, when he feels a little hungry like we all do, he does like to snack on chickpeas.
As of now, Kevin's diet is not only limited to potatoes. He eats other vegetables as well, mostly in the form of a salad and juice.
Also Read: Lynette Romero Weight Loss
Becoming an Ambassador for WW
With all the healthy eating and living, Smith also became an ambassador for WW (formerly known as Weight Watchers).
He promotes the program and follows their prepared diet plan as well. During his interview with Men's Health, Kevin even showed his fridge where WW's meals were on top.
WW provides help in losing weight by providing different sets of diet plans according to the person's preference.
Kevin and WW's combination can be quite useful for anyone who is looking forward to getting healthier.
Also Read: Marla Wynne Weight Loss
Kevin Before & After Weight Loss
Throughout his life, Smith has seen a lot of ups and downs. Not only in terms of his career but also in his health.
He came down to 190 pounds from all the way to 400 pounds. Throughout his weight loss journey, Kevin has lost 210 pounds.
Find out how the gossip blogger, Jason Lee, recently lost 87 pounds.
Final Words
In the end, I would like to say that there is never too late. Kevin's weight loss journey is a great example. He fell down and stood up multiple times.
The factors that made Smith successful were determination and consistency. I hope that his weight loss journey gives you enough inspiration to achieve your dreams.
Also Read: Milania Giudice Weight Loss