Renee is well-known for her marvelous acting. However, another reason behind her success and being famous is that she not only does acting perfectly but she gives 100% to the character she plays. Zellweger knows the art of adopting a character.
She takes it to another level and transforms herself completely according to it. Zellweger not only changes her according to the character but also works on her appearance.
Now, this might seem typical but it's not. Zellweger has lost and gained weight multiple times throughout her career. Just to play her role more accurately.
Gaining weight is almost a nightmare for some women but this is what Renee does in order to meet the expectations of her fans. No wonder she has got millions of them.
In this piece of writing, we are going to discuss the ups and downs of Zellweger's weight due to her acting career.
Renee's Weight Gain for Bridget Jones's Diary
In 2001, then 31 years old Zellweger was chosen for the main role in the romantic comedy film, Bridget Jones' Diary.
Zellweger was required to gain a great deal of weight to meet the character perfectly. She had to gain 30 pounds. 
Asking an actress to gain 30 pounds is not an ordinary thing. Nevertheless, she did it. Renee, who is a very sensitive person when it comes to her physique, had to eat a bunch of unhealthy things. She ate burgers, pizza, and chocolate on a daily basis just to gain weight.
Zellweger was asked to not count the calories that she was consuming daily. Renee would also have milkshakes and french toast. And as anyone can expect, her weight increased very quickly and she was ready to play the role.
Also, read how Mila Kunis lost weight and reached up to 95 pounds for her upcoming movie, Black Swan.
Renee's Weight Loss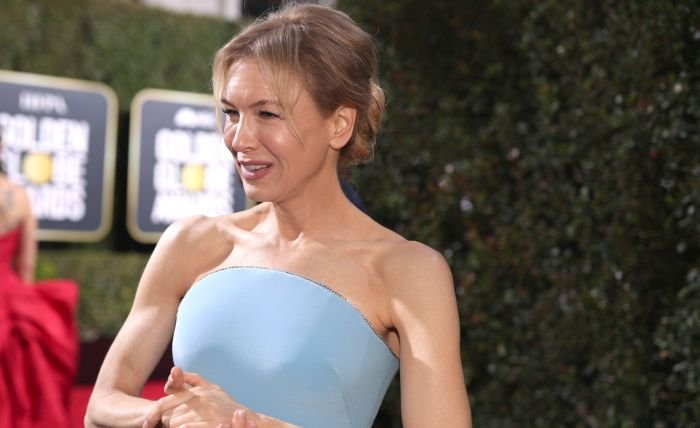 When all the filming was done for Bridget Jones's Diary, Zellweger was now finally seeing her aim right in front of her.
She embarked on the journey to lose weight. After reaching 140 pounds, Renee was now desperate to lose weight and her job was done.
For this purpose, she joined a gym after 9 months of acting. Zellweger invested herself into working out so much that within months she was again at the place where she started. Now fit and slim Zellweger maintained her diet and workout plan so much.
In her interview with Oprah Winfrey, Renfree said, "It feels good to finally go to the gym after nine months of not getting to". 
Renee's Weight Loss for Judy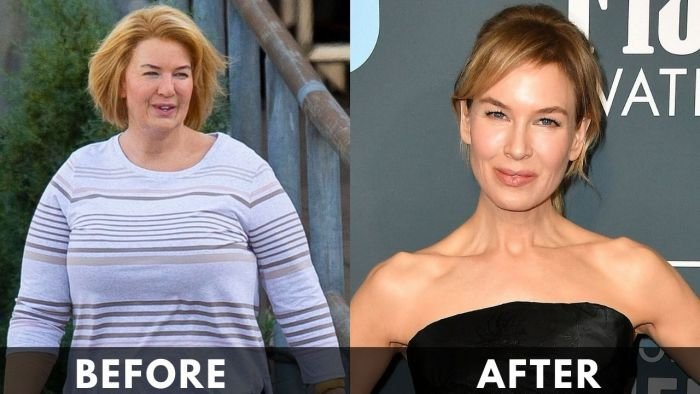 As mentioned earlier, Zellweger has lost/gained weight multiple times throughout her career.
When Zellweger was cast to play the role of American actress, Judy Garland, she was once again required to change her weight to meet the character perfectly.
Though this time Renee had to lose weight. The movie, Judy, proved to be the biggest challenge of Zellweger's career.
But she decided to cope with this challenge. According to the National Enquirer, Zellweger reduced calorie consumption to an "extreme 500-calories-a-day diet".
This truly was the hardest part of her career. In other words, the actress was starving herself to play Judy Garland.
She had to play the role of a drug addict singer, that's why weight loss was crucial. Zellweger was living on a simple diet such as nuts, sunflower seeds, smoothies, fruits, and vegetables.
After following this diet plan for a couple of months, Zellweger lost 24 pounds and her weight reached below 100 pounds.
Now, this of course wasn't a good situation and was very risky. Soon after the shooting for the film was done, Renee switched to her normal diet plan and managed to get back to her previous weight.
Renee doesn't Agree with the Hollywood Standards
As the actress reaches her 50s, she seems to be very frustrated because of the high standards set for women in Hollywood.
She is against such "high expectations" from actresses. Renee's own weight loss has made her depressed in the past. She doesn't want other young actresses to undergo what she has gone through.
Find out how the American actress, Merritt Wever, lost 28 pounds by going vegan.
Where is Renee now?
After struggling with her weight to reach a healthy point, Renee now weighs about 116 pounds.
She is seen dating the English television presenter, Ant Anstead. Zellweger now seems to be very happy and comfortable with her life.
Final Words
Having a passion for what you do is a sign of happy life but don't exaggerate it too much.
As you can see how it turned out for Renee. It might have made her famous for a time but in long run, it resulted in anger and depression. Always keep your health your first priority.
Also Read: