The American stand-up comedian, Tiffany has proved her worth time and again. After playing many guest roles in different TV series, the real breakthrough came. Haddish was cast for the role of Nekeisha in The Carmichael Show. By playing this role, Tiffany earned a lot of fame and her fan following only grew.
After that, one after another breakthrough came in her career. However, at the moment, Tiffany is a topic of discussion for totally another reason. The American actress has lost weight around 40 pounds. The weight loss was so sudden that it left her fans bewildered. 
She lost weight when Covid-19 hit the world. It was one of the most stressful times in human history. However, Haddish showed how can this change. She used the time to improve her health and succeeded in it very much. 
So, the question that arises to mind is how. How did Tiffany lose 40 pounds when most of the world was fighting the deadly virus? As strange as the question might sound, the answer is very clear, she lost weight because she worked for it and stayed motivated.
Read one of the most interesting weight loss stories about the famous comedian of the 20th century, Oliver Hardy.
Tiffany Haddish's Weight Loss Journey
Before discussing Haddish's weight loss, it would be more important to mention how did she reach there in the first place. She built bad eating habits during her youth. Tiffany would sit in front of the TV while binge-eating. These negative habits had a negative impact on her health.
However, as her weight continued to grow, so did her awareness. Tiffany found out the problem way before it was too late. Now, the obstacle was her busy schedule. She wanted to lose weight but didn't have enough time to go for it. This problem was solved during the lockdown.
In her interview with PEOPLE, Tiffany said, "During this COVID period, I've lost 40 pounds". Haddish has changed her health completely. Now, the main question is:
How did Tiffany Lose Weight?
Tiffany lost weight by changing her lifestyle completely. She made some tremendous changes to her diet and workout plan and then stuck to it. Haddish lost weight because she was committed to it. However, there was an invisible hand of help in her journey as well. She took inspiration from the late olympian, Florence Griffith Joyner, the fastest woman of all time.
"I had this thought in my mind that I want the body of Flo-Jo!", Haddish said. While quarantine afforded her the time, her determination proved to be the fuel of her weight loss journey. Here are Haddish's diet and workout plans:
Tiffany's Diet Plan
The first thing that Haddish did to her diet was she stopped eating everything she was eating since her youth. She knew that there was something wrong with her daily routine that wasn't getting her anywhere. So, she started from here.
At first, Tiffany cut down on every kind of meat consumption. She started eating vegetables and fruits only. In her own words, "I've been eating differently, eating way more vegetables, definitely eating directly out of my garden and just really putting in the work".
Later on, she started having some meat on her dining table as well, mostly fish. She also avoided sugary drinks such as tea, coffee, or any kind of drink that had a high amount of sugar.
Instead of tea or coffee, Haddish would start her day with a sip of gorge or carrot juice. In this way, she stayed away from unhealthy sugar consumption, which can be a kind of fuel for increasing weight.
Tiffany's Workout Plan
Tiffany's workout plan is also a thing to discuss as she did a lot of hard work during the lockdown. Tiffany made sure that she "sweat every single day" in the gym. Haddish would visit the gym five days a week, leaving the weekend only. Her workout routine was quite surprising.
She would work out from 15 minutes to two hours. Haddish also used dancing as a tool for weight loss. In this way, she was burning calories while at the same time, enjoying it. "And I try to dance every day for like five to ten minutes. I think that's really important, too: Make it fun!", Tiffany said in her interview.
Before & After Weight Loss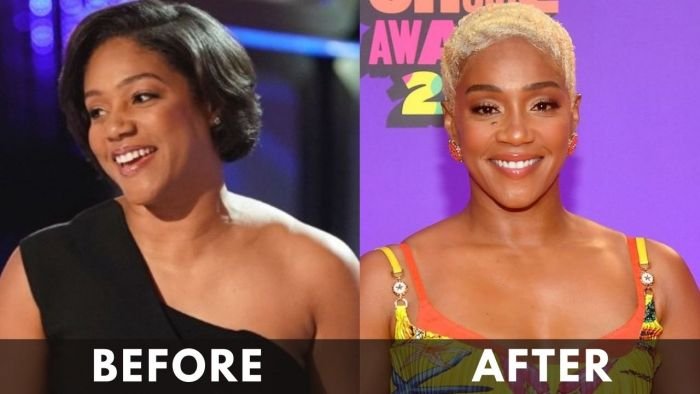 Haddish's current weight is around 144 pounds as compared to her old, 184 pounds. She has lost 40 pounds along the way and is still losing weight as her weight loss journey hasn't stopped yet. 
Tiffany's Motivation For Pushing Forward
When one tries to examine Haddish's successful life, one finds it quite interesting as there are many occasions where her strength is apparent. Here is what Tiffany described as her motivation, "I was homeless and hungry and that's like two Hs you don't want to be! Once I got over that hump, I felt relieved".
She continued, "But also I felt like I must continue to work and create opportunities for others so that I don't end up that way again". After losing extra pounds, Haddish said, "I'm stronger than I thought I was. I definitely have more endurance than I thought I have".
The famous actor from the Shameless show, Steve Howey, successfully lost 30 pounds.
Final Words
After changing her appearance and getting rid of unhealthy pounds, Tiffany has not only changed her health for the good but she has also made a great example for anyone who is looking forward to losing weight. A lot of her fans have already started following her weight loss journey.
Also Check: