Pearce is an Australian video game writer. Currently, she works for the American game developer, Santa Monica Studio. She has reported for IGN multiple times. Alanah is also a part of the development team for the upcoming video game, God Of War: Ragnarok. 
She has voiced different characters in Afterplay, Gears 5, and Cyberpunk 2077. Recently, Alanah had an unfortunate accident that resulted in a severe injury. She came off the motorbike and crashed on road. Because of the injuries suffered in the accident, Pearce couldn't walk for a few weeks.
As a result of which, she wasn't able to visit the gym, which she did every day. So, with the passage of time, Pearce started gaining weight. And since she wasn't burning any calories in the gym, consuming more was resulting in more increase in her weight.
Another famous gamer, Agent 00, has also lost a huge amount of weight.
Alanah's Accident With Motorbike
Talking about the accident on her YouTube channel, Pearce said, "I got in an accident. I came off the motorbike at about 30 miles an hour directly into my hands and into one of my knees. And I couldn't walk for a few weeks."
She added, "I still can't do a tremendous amount of cardio and as a result, gained more weight more rapidly than I have ever gained before in my life." Pearce's hands were so badly hurt that she couldn't use them at all.
It even hurt to play video games. As of now, however, Alanah is getting better and she has also started working out. In fact, she has lost a significant amount of weight. Her injury contributed a lot to her gaining weight. But it wasn't the only factor.
Lockdown Contributed To Her Weight Gain As Well
As the pandemic spread throughout the world, governments all around the world started shutting down countries to prevent its spread. And just like everyone else, Pearce was also stuck at home. As all the gyms were closed, she didn't have anywhere to go for working out.
As a result of this, Pearce gained some extra pounds. And as Alanah was about to embark on her weight loss journey, the motorbike accident happened and she has stuck at home for a few weeks yet again.
But she didn't give up. As soon as she got better, Pearce started her weight loss journey and achieved her goal of shedding pounds.
Alanah Pearce's Weight Loss Journey
Pearce started her weight loss journey in the April of 2021 and has come so far. Talking about her struggle, she said, "It's been very difficult. Even more difficult than in 2020 when gyms were closed. At least I could work out at home back then."
The good news, however, is that Alanah has started her journey of living healthily and she has come so far. To lose weight, Pearce followed a very healthy diet plan along with exercising. Given her injuries, Pearce had to be very careful with her workout routine.
Alanah's Diet Plan
"I do not want to understate how important diet is. I try to eat a lot of fruits and veggies. I eat a lot of nuts. I try to avoid things with creamy sauces and bread as much as I love them, they make me feel like crap," Alanah explained her diet.
She limited her sugar consumption and changed her old unhealthy diet to a healthy one. Not only that, but Pearce also reduced her alcohol intake. These big changes in her diet brought a big change in her appearance.
Alanah Worked Out With a VR System
Yep, she did that and it turned out in her favor. In one of her vlogs, Pearce shared with her fans that she worked out through a VR system. She said that she would play workout sessions and would exercise according to the instructions.
In fact, it was not just working out. It was playing games too. The workout sessions had built-in games as well. And this is how Pearce lost weight without feeling tired or bored. The VR system has options for selecting workouts from easy to very hard according to your preference.
"It's really really hard and gets much harder or easier if you need it to. But overall it's tough," Alanah said, "Supernatural VR uses the same dance-like arm moments that I like in a whole lot of other VR games."
She added, "But the thing that really gets me is the number of squats and lunges it makes you do in a short span of time without you even realizing that."
Before & After Weight Loss
After eating healthy food and working out with a VR system for a few weeks, Pearce started feeling some changes in her appearance. She has lost 39 pounds since the start of her journey. Her current weight is around 130 pounds as compared to her old weight of 169 pounds.
She is a Big Fan of Trying to Get Gamers into Fitness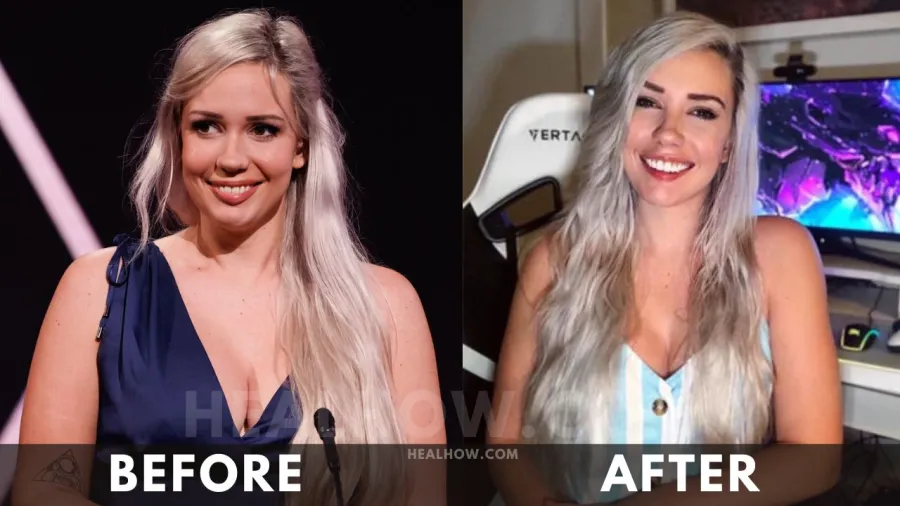 Pearce also admitted that her main goal is to get gamers into fitness and health. She said, "I want all those gamers who have become overweight because of sitting at home and playing video games all day to get into fitness." This is one of her most important goals. 
Alanah is Not Ashamed of Her Becoming Overweight
In her YouTube video, Alanah admitted that she doesn't feel any shame in gaining weight. She said that neither she was trying to lose weight to look good or achieve some ideal body. In fact, what motivated Pearce to lose weight was her concern for her health.
"I have lost weight solely because of improving my health. I don't feel ashamed that I gained that much weight or that I became overweight. I just made a decision to live healthily," she said.
Also, read the weight loss story of the Hollywood star, Chris Pratt, who lost 100 pounds.
Final Words
Alanah has completely changed the meaning of the word weight loss. Whereas before people thought of losing weight as something so tiresome, boring, and exhausting.
Pearce showed us that it is not the case at all and she lost 39 pounds by playing video games. As strange as it might sound, it is true.
Also Read: