Anderson is an American actor and comedian. He has appeared in multiple sitcoms.
Some of Anthony's famous sitcoms are Black-ish, The Bernie Mac Show, and All About the Andersons.
Not only that but Anthony is also considered an expert on the topic of food. 
He is a regular chef on Food Network's Iron Chef America. Those of you, who have been following Anderson for a long time know that throughout most of his career, he has been seen with a dad-bod. Anthony has struggled with obesity for a long time.
He also has a history of undergoing multiple transformations. Throughout his career, Anthony has lost weight multiple times.
His biggest transformation occurred in 2014 when he lost 47 pounds.
During the lockdown, on the call of Will Smith, Anthony again embarked on a weight loss journey and succeeded in losing 30 pounds.
We are going to discuss his weight loss journey in detail but first, let's have a look at the reason for his weight gain.
Find out how the Hollywood star, Christian Bale, has transformed himself for nine different movies.
Why did Anthony Gain Weight?
Well before Anderson was an actor, he was in love with food. Especially, fast food. He didn't take notice of how many calories he ate in a day.
That love of the food caused his weight gain to a dangerous condition. 
The situation got to a point where he was diagnosed with type 2 diabetes. This proved to be a call to action.
Anderson's father had also struggled with diabetes and in the end, it took his life. Anthony didn't want the same thing to happen again.
Therefore, after having a discussion with his doctor, Anthony decided to get rid of the extra weight that was causing the problem.
After choosing to lose weight, Anderson embarked on the journey to maintain his health.
Also Read: Fat Joe Weight Loss
Anthony's Weight Loss in 2014
After his diagnosis with type 2 diabetes, Anthony started maintaining discipline in his life.
As his weight reached an alarming amount of 270 pounds, his doctor advised him to "do something about it". 
The first thing he did was to get rid of fast food. Of course, it proved to be quite a hard job but he didn't give up.
After staying away from fast food for a month, Anthony noticed some positive changes in his body.
He substituted his old unhealthy diet with a new and healthy one. Whereas before Anderson ate a lot of processed food, now he was consuming homemade healthy dishes.
Not only did he follow a diet plan but he also worked out in the gym. Which had a very big impact on his overall health. 
After following a healthier diet plan and working out in the gym for hours, Anthony succeeded in getting rid of extra 47 pounds.
After losing the weight, his new weight was 223 pounds, a big improvement given his old condition.
Unfortunately, this didn't stay for too long. Anthony's busy schedule didn't allow him much time.
And with the passage of time, he regained some of the lost weight. But he didn't give up and continued his efforts.
Also Read: Lara Beitz Weight Loss
Anthony's Weight Loss During the Lockdown
When Covid-19 hit the world, everyone, except health workers, was trapped in their homes.
Now, staying at home was safe but it had its downside as well. As Anthony got stuck at home, he gained weight quickly.
At that time, he needed a friend's help, who would get him out of that negative situation and would set him on the right path.
Will Smith proved to be that friend. During the lockdown, he put forward a "Weight Loss Challenge". Will Smith said that he was "In the worst shape of his life".
Anderson didn't waste time thinking anymore and accepted the challenge by saying, "12 weeks! No trainers! All on our own?! Challenge accepted." Well, Anthony wasn't the only one who had accepted the challenge.
The celebrities, along with Anthony, who accepted Will's challenge were Dr. Dre, Chris Spencer, and Marlon Wayans.
After accepting the challenge, Anthony started doing a lot of hard work. He put a lot of effort into getting in shape.
Also Read: Megan Thee Stallion Weight Loss
Here are the details about Anthony's diet and workout plans:
Anthony's Diet Plan
To get in shape and succeed in the challenge, Anderson focused more on vegetables and less on meat.
He said that he was trying to become a "vegan-ish". Not only meat, but he also controlled his alcohol consumption and also eliminated sugar.
Anderson would eat only fruits and vegetables for lunch and dinner.
Along with maintaining a vegan diet, he also drank a lot of water to stay away from untimely hunger and to preserve energy for exercising.
Also Read: Al Roker Weight Loss
Anthony's Workout Plan
As almost every gym was closed during the lockdown, Anderson worked out on his lawn and ran on the treadmill that he bought.
He lifted weights and did push-ups, squats, and lunges.
Maintaining his diet and following a workout plan helped Anderson in getting back in shape.
Before & After Weight Loss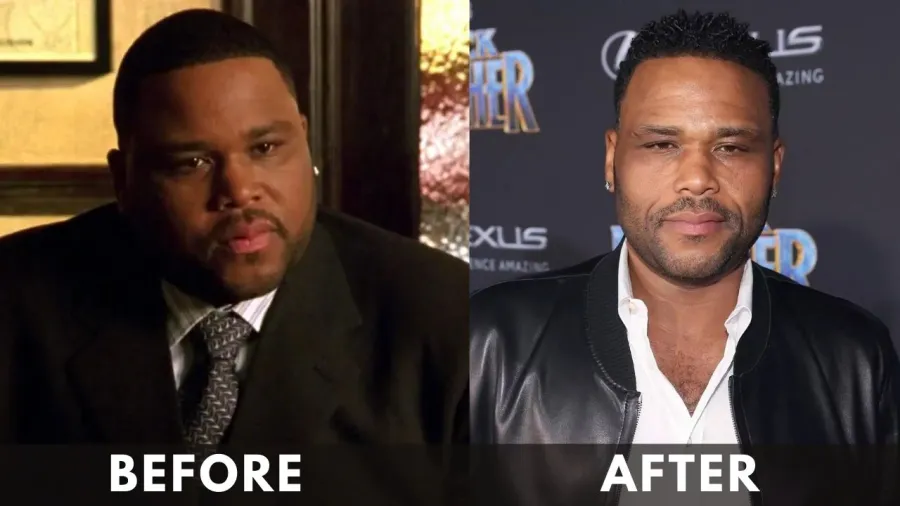 Before accepting the challenge, Anderson weighed around 230 pounds, however, after losing 30 pounds, Anthony's current weight is 200 pounds.
The famous comedian, Zach Galifianakis, has lost 50 pounds recently. Find out how.
Final Words
Yes, losing weight is a very hard task. Way harder than gaining weight. But it is a very important task.
Especially in today's world of obesity, where it is at its highest in history. Today's luxurious life has made it very hard to exercise or maintain a healthy figure.
But if you know that it is the right thing for you to do and you have enough determination, nothing can stop you from living a healthy life.
Also Read: