Tamela, a famous American actress and gospel singer, began her journey to lose weight in 2019.
She had been struggling with being overweight for a long time and decided it was time for a change. And oh boy, what a change it was! When she finally showed up after her big transformation, her fans had trouble recognizing her.
Tamela's weight loss was truly amazing. When she first revealed her new look, she had already shed 50 pounds! But she didn't stop there – she kept going on her journey and eventually lost a total of 100 pounds. That's like losing the weight of a whole person!
Now, many of Tamela's fans were curious about why she suddenly lost so much weight. Some thought she might be sick, but let me clear that up – she's not dealing with any illness.
The truth is, Tamela chose to lose weight because she wanted to be healthier. She made a decision to change her life for the better.
So, how did Tamela manage to lose those 100 pounds? Well, that's what we're about to find out next.
Also, read about the tremendous transformation of Jessie Wallace: she lost about 200 pounds.
Tamela Mann's Weight Loss Journey
As mentioned earlier, Mann had problems with her increasing weight. However, she didn't know the way out and was confused about what choice to make. The real change in her life came when she joined WW (weight watchers). 
Tamela soon found out that it wasn't an impossible thing to do. Soon after signing up for the WW program, Mann became an ambassador for the program. Later, her daughter, Tiffany, joined the program as well. 
"It's nice to have a family member who's like-minded on this journey! We both have goals we're trying to reach", Tamela appreciated her daughter's decision. In reply to this, her daughter said, "Mama has always led by example – she's a great wife and mother, and an incredible performer". 
Now let's turn to the question of how did Tamela lose weight exactly. Following are the details
Tamela's Diet Plan
Tamela applied some modesty to her food choice. Yes, she followed some advice from WW on the matter of diet but overall, however, most of Tamela's menu was chosen by herself. She stopped eating food that contained an unhealthy amount of sugar. 
In one of her interviews, Tamela explained, "I still eat what I like but I've cut my portions back, picking and choosing the right, healthier choices. My thing this year is to stay focused and finish" [1]. Mann's statement clearly shows her devotion to her decision. 
A big portion of Tamela's diet consists of vegetables and fruits. She also eats Greek yogurt for lunch as it is much lighter and has very low calories. 
Tamela's Workout Plan
In her weight loss journey, Tamela's main focus was on workouts. In fact, she started her weight loss journey by focusing on workouts. "I said to David (her husband), 'I just want to start with walking'. Then I started", Mann explained in her interview.
She further said, "I started with one mile. Now, I'm up to two miles. Now, I'm to three miles. And then, from coming from doing three miles, I've started doing 30 to 45 minutes on the elliptical. I'm enjoying it now".
Mann goes for long walks early in the morning. In her interview, Tamela said, "I've been doing walks and all that healthy stuff and have lost 50 pounds". On this, the interviewer asked, "Well, how did you do it?", Tamela replied, "WW". 
All in all, the workout plan has played a great part in Tamela's weight loss journey. She does cycling and sometimes swimming as well. 
Before & After Weight Loss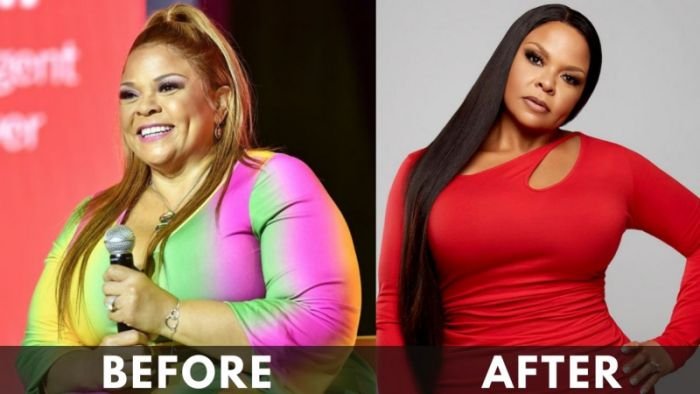 Before Tamela Mann began her journey to lose weight, she used to weigh around 250 pounds. That's like carrying the weight of two bags of potatoes! But guess what?
Now, she weighs a much lighter 143 pounds. That's a huge difference – it's like she's lost a whole person's worth of weight! She worked hard and stayed committed to her goal, and that's how she managed to achieve this impressive transformation.
Tamela on Weight Loss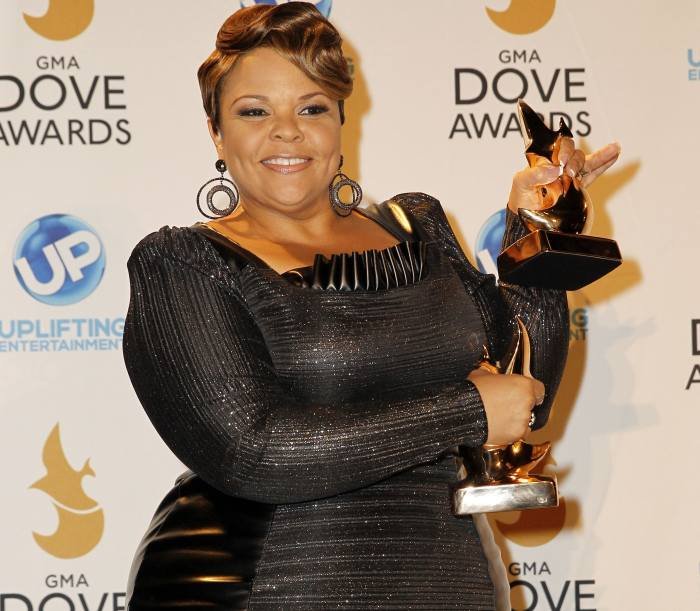 The gospel singer seems to be very comfortable with the decision she has made. However, she hasn't stopped there. Mann is still focusing on her weight loss and is still following the course. She explained her plan as "I've got 30 more pounds to go. I'm ready". 
The famous Irish actress, Saoirse Ronan, has lost about 55 kgs to play her role.
Final Words
Tamela, who had fought obesity for so long, is finally getting in good shape. Her whooping 100 lbs weight loss has shocked almost everyone.
It is not wrong to say that while most people just think, throughout their lives, Mann has really done what needs to be done. Yes, losing weight is a hard thing to do but it is worth doing it. For Health is Wealth.
Also Read: